There's no denying that the state of your skin can have a significant impact on your self-esteem.
Whether you're dealing with pigmentation, rosacea or acne, even applying everyday makeup (if that's your jam) can be a struggle – not to mention finding products that conceal but don't smother your skin.
In a highly requested video released earlier this year, Sydney-based YouTuber Jordyn Foster, AKA MakeupMeJordan, has shared her acne coverage tutorial that shows step by step how to minimise the appearance of your acne.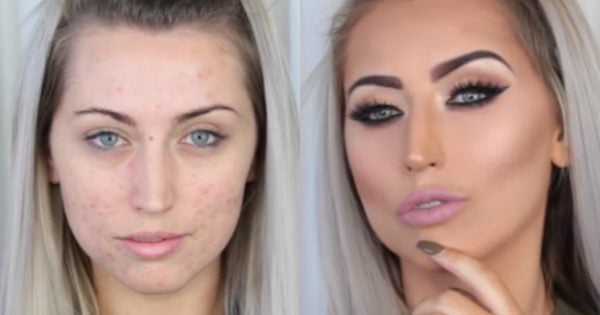 Image: MakeupMeJordyn/YouTube
Each step is carefully explained, it's very full coverage and even better, it uses only pharmacy (read: affordable) beauty products. Oh, and it's been viewed over half a million times.
Looks like Saturday night's makeup is sorted.
1. The base.
Foster starts by cleansing the skin with Garnier Micellar Cleansing Water, $13.99, before applying the L'Oreal Infallible Matte Priming Base, $20.95, on client Jodie's T-Zone using a brush.
 2. Colour correcting.
A common issue when you're looking to cover up acne, pimples or marks is the redness. This is where colour correcting comes in with brightly coloured concealers. She applies the LA Girl Pro Concealer, $9.30, in orange under the eyes to counteract the dark circles, before dotting green over her face to balance any redness.
She recommends applying with a brush then patting in with fingers to blend.
3. The coverage.
Foster then applies L'Oreal Infallible 24HR Matte Foundation, $29.95, in Golden Beige with a flat top kabuki brush before gently bouncing the foundation into the skin with a Beauty Blender, $30, to blend.
She then applies Maybelline Fit Me Concealer in light, $14.95, under the eyes, on the bridge of the nose, on the cupids bow, the centre of her forehead and chin before blending out with a damp sponge.