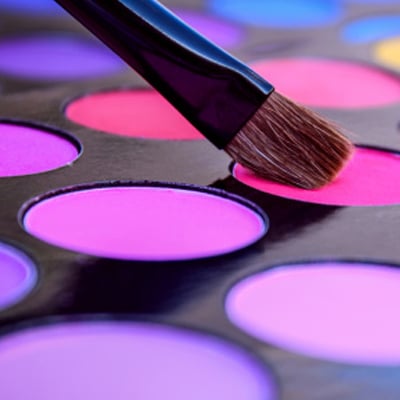 Images: The Glow
Since on most work days I'm responsible for getting one wild three-year-old dressed and fed, I have approximately two minutes to get myself ready in the morning. You can usually find me at the traffic lights applying mascara in the rear vision mirror, and turning up to work in a somewhat disheveled state. Every mum or busy woman has had to streamline their beauty routine to some extent, and here are a few new tips I hope you'll try out for work or the next time you have to be somewhere and look semi-decent.
1. Try a brow gel
If you haven't ever used a brow gel before I'd recommend you'd definitely try one. They're inexpensive, make you look more polished and can totally change and tame your eyebrows - especially  if you're blonde. My eyebrows still have some tint in them from when I threaded them two weeks ago, but they are basically invisible until I apply a pencil or brow gel. Since they're also a bit scarce, I love ModelCo's More Brows Thickening Gel, $15.
2. Don't just use blush on your cheeks.
Instead of just putting blush on the apple of your cheeks, sweep it up towards your temples and just above your brow bone. This gives you a more youthful, and polished appearance. Makeup artists have known this one for years.
There's a few tricks to getting blush right, the first is an excellent brush. If you've struggled with applying it properly in the past, it might be worth investing in a rounded brush – and the brushes that come in compacts are never big enough to deposit the colour in the right place, so don't bother with these.
Second step, swirl the brush into the product, then tap it three times on the back of your hand to get rid of excess product. Do not skip this step – it's how you avoid clown face / blush stripes.
To get it right: Smile and start on the apples of your cheeks, about an inch from your nose, then using a dabbing action, rather than a sweeping motion (this method won't shift your foundation) pat the product up over the cheekbone, temple and stop just at the edge of your brows.
3. Illuminate above your brows.
You've probably never thought about drawing a line of illuminator above your brow bone, but when I tell you why I'm doing it you might considering doing the same: it helps you make look more awake. It can also help to balance out asymmetrical brows. You can use a product like YSL Touche Eclat if you have it, or L'Oreal Magic Lumi highlighter, $19. I used an old NARS Soft Touch Shadow Pencil I had lying around in shade Goddess.