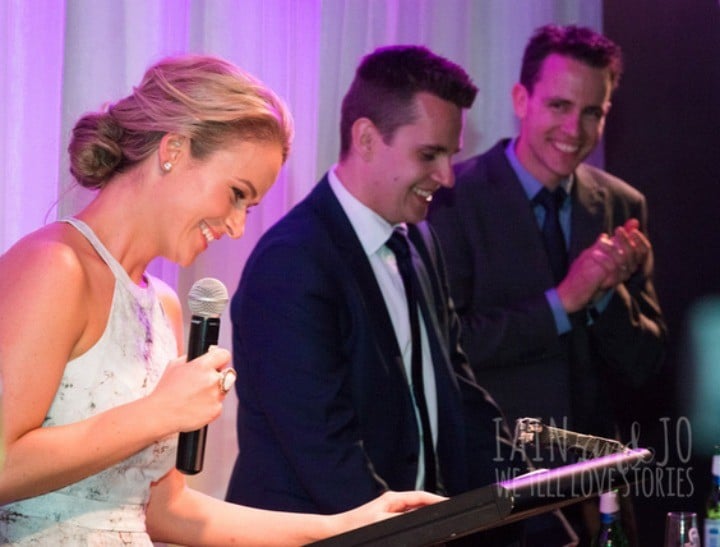 "She was very generous with her love." The words you never want to hear about a bride during a wedding speech.
Being asked to do a speech at a wedding is kind of a big deal.
First, there's the initial compliment of being asked. Next, there's the realisation of the work involved. Then the dread of delivering it. And, finally, the elation of having finished the task (and contributed to the wedding of someone you love).
Usually it ends like this…
But you know there is something going desperately wrong if, during your speech, the bride looks like this…
Which is exactly what happened at a wedding I went to last year.
As the maid of honour (commonly known as MOH in serious bride circles) told the 150-plus guests about how her sister used to bring home a different guy every weekend, the bride held her head in her hands. MOH continued, saying their mum was more upset about each bloke leaving than the bride. When the shocked guests guffawed and excitedly whispered to their neighbours, the MOH tried to backtrack. "No, no – she was just very generous with her love," she attempted to explain.
Nope, too late. MASSIVE FAIL.
So, after being tasked with delivering a speech at my childhood friend's wedding, I felt inspired by this hilarious  awkward debacle to do some research on how to nail a wedding speech.
This is what I learnt:
1. No sex talk. EVER. And no mention of exes.
Grandma is in the room, people. As well as parents and in-laws. Nobody wants to know about the bride (or groom) hooking up with anybody. Or the bride's reaction to the stripper you hired at the hens party. Keep it clean.
And if a hilarious story that you really need to tell involves an ex, leave that bit out. Erasing history is okay at a wedding.
Trust me on this one.
2. Be funny.
Some of the random sites Google sources I consulted advised MOH's to be short and sweet. Literally. Being funny was the domain of the best man, something MOHs shouldn't bother their pretty little heads with.
Screw that, I say.