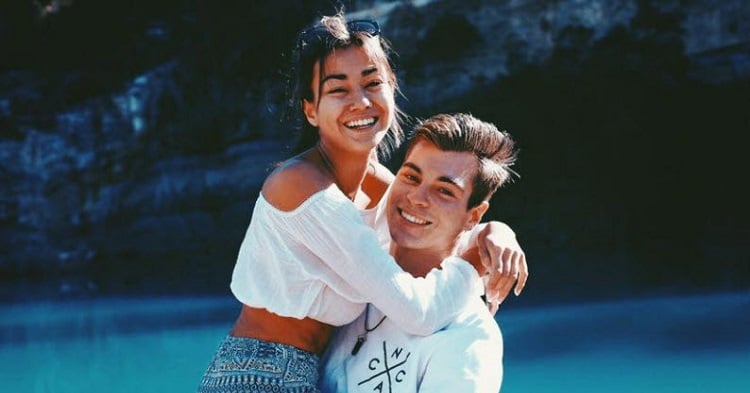 1. Former boyfriend of British backpacker killed in Queensland frenzied knife attack posts touching online message.
The former Australia boyfriend of slain British backpacker, Mia Ayliffe-Chung, has posted a photo of himself with the 21-year-old on Facebook.
The Northern Beaches photographer Jamison Stead wrote: "Rest in peace Mia. Thank you for the memories".
The tribute is one of many since her death on Tuesday evening, after being stabbed to death at Shelley's Backpackers in Home Hill, south of Townsville.
2. Magnitude 6.2 earthquake strikes central Italy flattening more than 2000 homes, more than 120 dead.
The death toll from the earthquake in central Italy is expected to climb with a frantic search for survivors underway. Matteo Renzi, the Italian Prime Minister, has said that they now know of at least 120 people killed with hundreds more stuck beneath the rubble.
Just before 3.30am local time on Wednesday the 6.2- magnitude quake struck 10km southeast of Norcia, a historic tourist town in southeastern Umbria.
Many of the dead were in the towns of Amatrice, Accumoli and Arquata del Tronto, but the quake was felt as far away as Rome.
The mayor of Amatrice, one of the worst-hit areas, said "half the town is gone". He spoke of one family of four including a nine-year old and an eight-month old baby among the dead.
Accumoli Mayor Stefano Petrucci said: "Four people are under the rubble, but they are not showing any sign of life. Two parents and two children."
Thousands of people are believed to have been left homeless across the region.
A BBC reporter on the scene as a woman is pulled from the rubble…
Mr Renzi said Italy "knows how to cope", adding "when things don't go well the whole of Italy demonstrates its most beautiful aspect".
The last major earthquake to hit Italy struck the central city of L'Aquila in 2009 killing more than 300 people.
3. French knifeman might have had 'romantic obsession' with British backpacker he allegedly stabbed to death.
Police in Queensland are investigating whether the Frenchman, Smail Ayad who allegedly stabbed a British backpacker to death while shouting "Allahu akbar" had developed a romantic obsession with her.
English tourist Mia Ayliffe-Chung was killed in a knife attack at a backpacker hostel in Home Hill in north Queensland, on Tuesday night.
Frenchman Smail Ayad was filmed allegedly screaming in Arabic as he was arrested by police.
Another English tourist, Tom Jackson, 30 was left with stab wounds and is fighting for life and a 46-year-old Home Hill resident received with wounds to his legs. A dog was also stabbed to death.
4. Bob Katter calls for end to Middle East migration.
In the wake of the FNQ stabbing, and despite police saying there is so far no known link to terrorism, Independent MP Bob Katter has told Sky News that the "time has come" to stop people from the Middle East and North Africa coming to Australia.
"The time has come now to stop people from those countries coming to Australia – and if that is an extremist position, is it an extremist position for Saudi Arabia and Dubai… they won't let any of those people in," he said.
"I think the risk to the Australian people now is so great that that should not occur anymore," he explained.
Mr Katter said he the Government continues to let "630,000 people into Australia each year in an economy that's only generating 200,000 jobs."
5. Parents unhappy with plans for new national Year 1 exams.
Year One students to be tested. Via iStock.
Parents and experts have expressed their unease at forcing children as young as six to undertake exams to assess their literary and numeracy skills.