Peek into my beauty cupboard and you'll see a whole box of lotions and potions for makeup cleansing. Actually watch me in action however, and you'll see a totally different story.
I'm one of those people who can tend to be a bit, ahem, lazy when it comes to removing my makeup at the end of each day. I know it's necessary but it can be such a drag.
Then I read about the Magic Makeup Remover, a microfibre cloth that requires no products to totally remove makeup and exfoliate your face in one go – simply add water and bam. At just $5 from The Reject Shop (yes, really) and already impressed by what microfibres can do for your hair, I had to try it.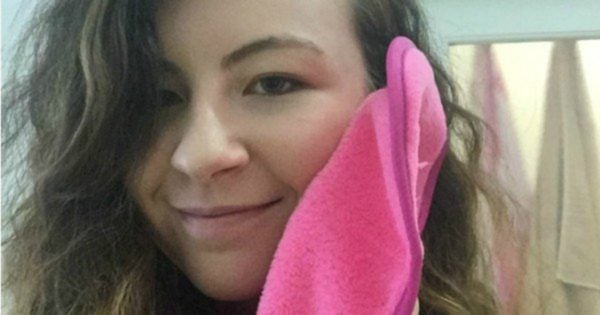 As well as being a marvellous hot pink, the actual cloth is very soft and fluffy which made it hard to believe that it can remove all the day's makeup and gunk from my face effectively. (Spoiler alert: It manages just fine).
To use, simply take one rounded end of the cloth, wet with warm water and then gently rub your face in slow circular motions. I use it to take off my "everyday work" makeup - a solid base, hint of blusher and bronzer, styled brows and my heavy duty mascara.
I'm amazed at how much it managed to clear off after just a few rubs.