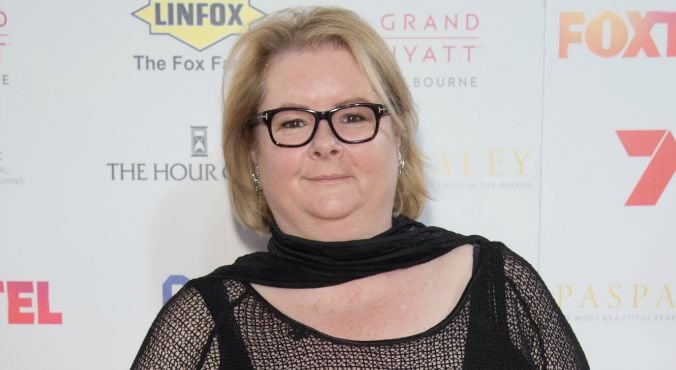 Image: Getty.
Their hilarious Kath & Kim dynamic will go down in TV history, but actress Magda Szubanski has admitted she didn't exactly hit it off with Gina Riley (Kim) and Jane Turner (Kath) when they first met.
Actually, that's an understatement — Szubanski and Riley actively disliked one another.
"I hated her on sight. The dislike was mutual. I thought she was a crass show off and she thought I was a stuck up snob. We were both right," Szubanksi said to News.com.au during yesterday's ASTRA Women in Television breakfast.
As for Turner, Szubanksi felt intimidated and envious of the comedian's talent when they worked together for the first time in the mid-'80s.
"She reminded me of a startled bird, fine-boned with quick darting movements, a completely different beast from me. But she was undisputedly funny and a gifted writer, which made me feel a tad threatened," she said.
It's refreshing — or in Kath & Kim speak, it's noice, it's diff'rent, it's unuuusual — to hear a high-profile woman talking so candidly about her interactions with her colleagues.
So often we hear talk of women tearing each other down in professional environments due to dislike or envy or some other negative experience. There's a lingering stereotype that female co-workers simply can't put those feelings to the side and cooperate like their male counterparts can.
This is ridiculous — women, like men, sometimes don't see eye to eye. That doesn't mean they're out for career sabotage.
In the case of Szubanksi, Turner and Riley, clearly those initial differences haven't undermined their long-standing success as a comedic trio — they've gone on to work on numerous projects together, namely Fast Forward, Big Girls Blouse and Kath & Kim. (Post continues after gallery.)
Highly quotable Kath and Kim moments
At the same time, they've learned to love one another and appreciate the differences in how they operate and use it to their advantage.
"When we finally overcame our pride and prejudice a year later when I moved in with a mutual friend, Gina [Riley] and I completely fell in love over the phone when she would ring to speak to him and get stuck talking to me," Szubanksi, now 54, recounted.
She said her working relationship with Turner is reminiscent of "oil and water".
"We both love one another's work but we don't always mesh well. Jane has a completely different rhythm from me, as if one of us is doing a foxtrot while the other is trying to samba," she explains.
"Luckily we are deeply fond of each other and are capable of making each other cry with laughter."
Have you ever worked with a woman you didn't like at first? How did you move past that?