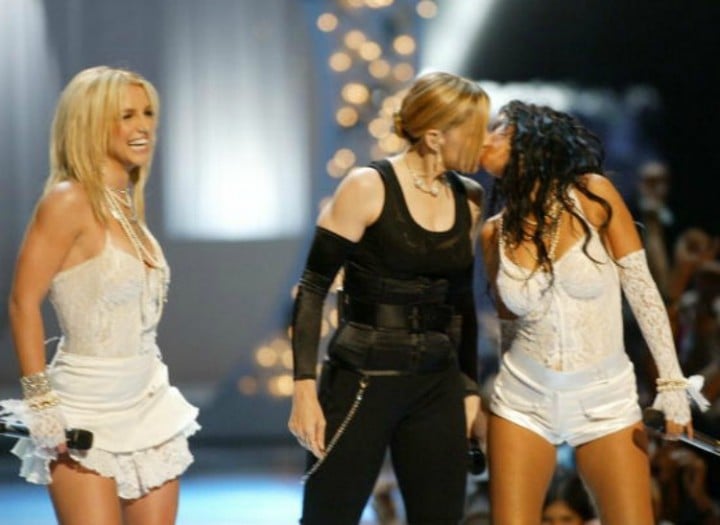 Drake tries to dig himself out of epic fail.
UPDATE:
Drake has been busy backing away from his own horrified reaction to the tongue-fest he and Madonna shared on-stage at Coachella two days ago. Let's call it Kissgate. Anyway, the rapper says we shouldn't draw conclusions from the grimacing and mouth-wiping he engaged in after the kiss.
"Don't misinterpret my shock! I got to make out with the queen Madonna and I feel 100 about that forever. Thank you @madonna."
Uh huh.
Madonna herself is giving zero shits about the uproar, posting a picture of the kiss to her own Instagram account with the caption, "No caption necessary ………[email protected] #bestnight #bigasmadonna #bitchimmadonna."
Mamamia previously wrote….
Did Drake just very publicly diss Madonna's kiss?
As if stacking it down a staircase in front of millions of people is not enough bad lack for 2015, then having a young singer wipe his mouth in disgust after you've dramatically pashed him has to add insult to injury.
Especially when it gives your 'enemies' a chance to take a swipe at you, like this one:
 

So @Drake proves that kissing @Madonna is about as ghastly as I always imagined it would be: http://t.co/dsM7izOvoQ

— Piers Morgan (@piersmorgan) April 13, 2015
The 56-year-old received this horrified reaction from Canadian singer Drake while performing at the celebrity-packed Californian music festival Coachella. Madge even went for some over-the-top boob action as she surprise 28-year-old Drake (also known as 'Rihanna's ex') with a very sneaky snog.
Madonna went in for a smooch with Drake — which felt creepier the longer it went on: http://t.co/QteimG9tVR pic.twitter.com/C4twdZnlTn — billboard (@billboard) April 13, 2015