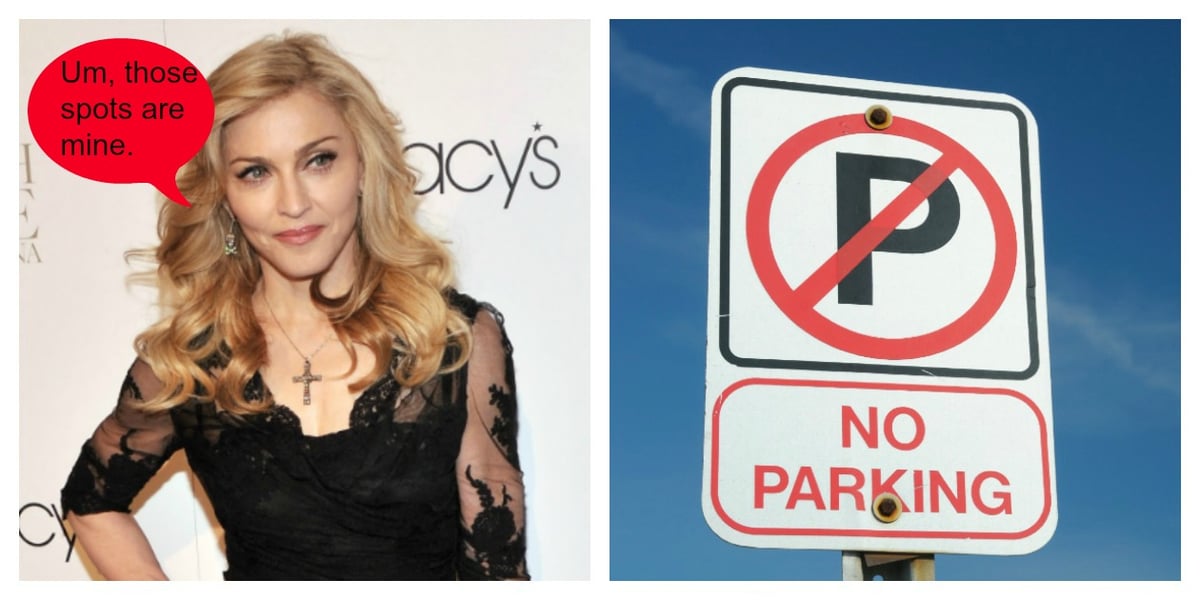 My goodness, it pays to be rich, famous and have a whole heap of minions doing your dirty work for you.
Madonna has been causing quite the ruckus in the media recently, turning up to shows late and denying having a meltdowns while on stage.
But this is the kind of brash boldness we can get behind.
Apparently, Madonna has been running around town setting up fake No Parking signs in places she wants to park.
According to TMZ, Madonna was getting increasingly frustrated at the lack of parks outside her $40 million Upper East Side townhouse. (Is anyone else increasingly confused as to why Madonna is actually parking her own car? Surely she has an extra couple of green bills to throw at someone to do that for her?)
Madonna angers neighbors by putting up fake 'No parking' signs outside $40m NYC townhouse https://t.co/7luWRfy9qb pic.twitter.com/9tQdaejjX0

— Daily Mail Celebrity (@DailyMailCeleb) March 24, 2016
And so, the harder it got to claim some prime parking spaces outside her own home, the singer decided to take matters into her own audacious hands.
TMZ are claiming Madonna's people littered the area around her house with "Tenant Parking Only" signs and a another "NO PARKING" warning curb side for good measure.
Just in case those pesky New Yorkers didn't quite get the message, the curb was also painted yellow to give drivers send one final menacing message.
However, it didn't take long for neighbours to question the signs and the fact they differed slightly from others peppered around the area, with one contacting the Department of Transportation. It appears the signage must be removed stat, and Madonna's reign as queen of those car spaces is over.
Neighbours and council alike didn't seem to appreciate the genius behind the signs.
And for those who claim money doesn't buy happiness? You've just never tried to find a carpark in any CBD.