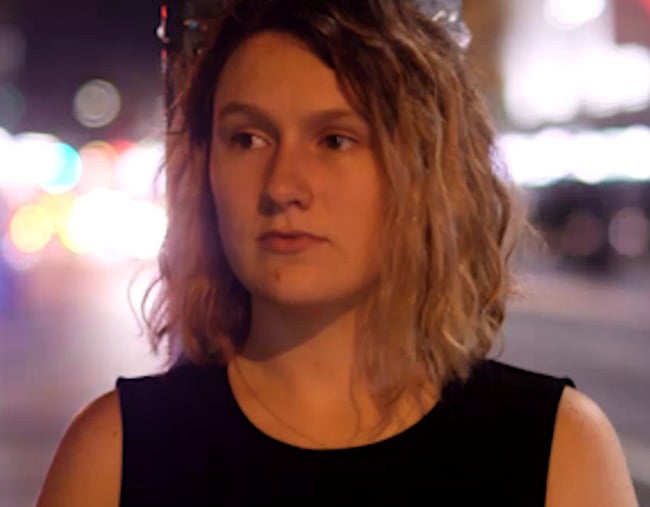 Saxon Mullins' first time sexual experience was nothing like she'd imagined.
The then-18-year-old was drunk and had been led out to an alley behind the club she had just met Luke Lazarus in. There the 21-year-old had anal sex with her – an encounter she maintains was rape, a charge he was convicted then acquitted of.
Five years on from the May 2013 night in Kings Cross, Saxon told Four Corners of her fear that night, and also the moment the next day when she was told she needed to go to the police.
The now 23-year-old said she never imagined she would lose her virginity while on all fours on gravel.
Saxon has remained anonymous up until now. She's decided to share her story. Post continues.  
"I mean, I didn't even get kissed until I was 17 years old. I had this grandiose, you know, romantic, it'll be by candlelight on a bed of roses with someone who loves me," she said during the interview that aired on Monday night.
"And, you know, no one dreams of their first time being in an alleyway with someone whose name they can't even remember. No one wants that."
Saxon said that after she ran away from Lazarus she fell into her friend Brittany Watts' arms, crying "hysterically". The girls then rode the long train ride to her sister Arnica's house.
"I didn't really know what to do," Brittany said. "Like, I didn't know how to react or how to even help, because it just was so shocking that it had even happened, 'cause… We'd never heard of that happening to anybody that we knew."
But the next day, as Saxon sent texts to her older sister Arnica, she came to terms with what had happened and her sister told her she needed to go to the police.
The Mamamia Out Loud team unpack the case. Post continues.
"The morning after she went out in Kings Cross I received some very disturbing and upsetting text messages about something that happened to her," Arnica said.
The texts read: "He took me out this back door and we went down this alley and then he was aggressively hooking up with me and then I was trying to get away and he just went, 'No, put your f*cking hands on the ground and arch your back'. And I didn't know how to leave so I just did and he, uh, how do I put this delicately? Anal. Yep. And then I ran away and called Brittany and waited for her and cried. The end. Yeah."