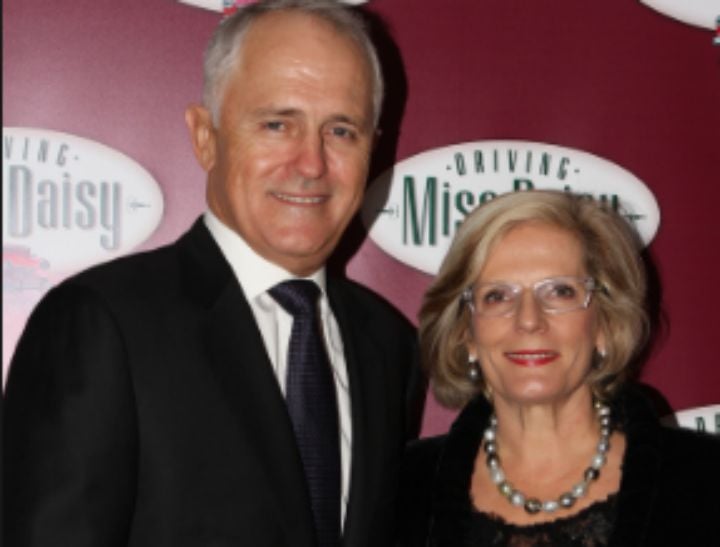 Some people have all the good titles.
The former Lord Mayor of Sydney can add another title to her deeply intimidating CV: Spouse of the Prime Minister of Australia.
For Lucy Turnbull, who's been married to Malcolm for 35 years, it's an unofficial job description – and not nearly so grand as First Lady — but she joins Therese Rein as one of the most impressive people to fill the role, which has become increasingly visible.
Lucinda Turnbull, 57, comes from an illustrious line of politicians. Her grandfather was Sir Thomas Hughes, the first Lord Mayor of Sydney. Turnbull made history herself by becoming the first female Lord Mayor of Sydney in 2003.
In addition to her own political career, Lucy Turnbull is also a lawyer and businesswoman. She's currently the director of investment banking firm Turnbull & Partners and sits on various panels and boards, with philanthropic interests including the NSW Cancer Institute, the Redfern Foundation and the Sydney Festival.
A life-sized portrait of her hangs in Malcolm Turnbull's office, and our new Prime Minister has indicated that Lucy Turnbull plays an active role in each and every decision he makes.
"It is almost impossible for me to imagine, let alone remember, what it was like not to be together -– so much so that I have a much clearer sense of 'Lucy and me' than I do of 'me'," Malcolm Turnbull told The Australian Women's Weekly last year.
Lucy met Malcolm Turnbull when she was 19 and he was 23.
He was a journalist for The Bulletin assigned to write a profile of her father, the QC Thomas Hughes, and she was helping her dad out in his law chambers over the summer holidays.
"What was my impression of Malcolm? Well, Malcolm was very dashing and extremely attractive, you know. Good sort and very energetic. He always had a very strong energy kind of life-force about him. I guess that was a remarkable thing. He wasn't a passive, sit back, let life… you know, let it flow kind of person. He was always kind of, you know, lean forward," Lucy Turnbull told Australian Story in 2009.
They were married a couple of years later in 1980 and quickly became a Sydney power couple.
She gave birth to their first child at the age of 24, despite misgivings that she was too young.
"[Malcolm] was very keen to start a family very young and I kept on saying, 'Well, hang on'. I was 24 when I had Alex and I said, 'Are you sure we're not doing this a bit young?' He said, 'No, no, no, it'll be fine'… Alexander and Daisy are testament to the fact that he persuaded me to do that," she told Australian Story.