Image: The Office/NBC.
You don't need fireworks, a flash mob or the Eiffel Tower to make a marriage proposal special. In fact, sometimes it is the more spontaneous, spur of the moment, low key proposals that are the sweetest.
We bring you 12 people whose non-glamorous proposals were completely awesome.
"My now husband has planned a huge proposal in a park. He had a picnic with candles, champagne and rose petals all set up to surprise me, but just as we go there, a huge thunderstorm came down. He ended up proposing to me in the public toilets nearby." – Sophie
2. "I proposed to her in our garage."
"On my birthday, she was taking me out to eat and I couldn't find anywhere to hide the ring. She asked if everything was okay and I said, 'might as well get this out of the way.' I proposed to her in our garage," – forkandbowl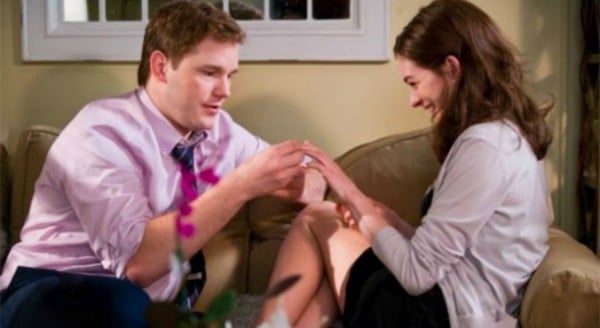 6. "He proposed while we were lying in bed."
"We were lying in bed on a Tuesday morning, he gave me a diamond, and proposed to me. We went to get the ring made together, it was so sweet," - Amanda.