Do you have a pile of books you've been meaning to read, a playlist of songs you really need to listen to and a queue of Netflix hits you've been saving for a rainy day?
Well, forget about ALL OF THAT because we have news that will make all those plans completely obsolete.
The cast of Love Actually – yes, your favourite holiday movie of all time – is getting ready to reunite.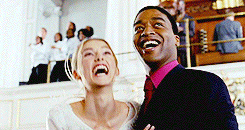 British charity Comic Relief is getting the band back together for a short film in support of the Red Nose Day fundraiser.
The short is due to be called Red Nose Day Actually, which is just a little bit cute, if you ask us.
It's official! Love Actually cast reuniting for #RedNoseDayActually special ????????????❤ https://t.co/61Oz6ktGb1 pic.twitter.com/LItApGuPjX

— Red Nose Day (@rednoseday) February 15, 2017
So... Who will be back on our screens?
Hugh Grant, Keira Knightley, Colin Firth, Liam Neeson, Thomas Brodie-Sangster, Martine McCutcheon, Andrew Lincoln, Lucia Moniz, Olivia Olson, Marcus Brigstocke AND Rowan Atkinson are all set to return.
"It seemed like a fun idea this year to do a special sketch based one of my films, since Red Nose Day is now in both the UK and America," the film's creator, Richard Curtis - who also created Red Nose Day - told Deadline.
"I would never have dreamt of writing a sequel to Love Actually, but I thought it might be fun to do 10 minutes to see what everyone is now up to. Who has aged best? I guess that's the big question...or is it so obviously Liam?"
Red Nose Day Actually will air on March 24 on BBC One and will also be broadcast as part of NBC's Red Nose Day Special on May 25.