Do you have a pile of books you've been meaning to read, a playlist of songs you really need to listen to and a queue of Netflix hits you've been saving for a rainy day?
Well, forget about ALL OF THAT because we have news that will make all those plans completely obsolete.
The cast of Love Actually – yes, your favourite holiday movie of all time – is getting ready to reunite.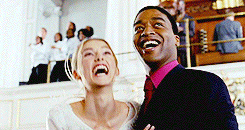 British charity Comic Relief is getting the band back together for a short film in support of the Red Nose Day fundraiser.
The short is due to be called Red Nose Day Actually, which is just a little bit cute, if you ask us.
It's official! Love Actually cast reuniting for #RedNoseDayActually special ????????????❤ https://t.co/61Oz6ktGb1 pic.twitter.com/LItApGuPjX

— Red Nose Day (@rednoseday) February 15, 2017