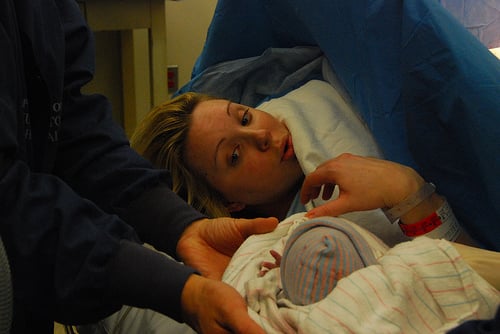 The day their little girl was born, Matt and Liz Logelin didn't realise it was the beginning of the end for Liz. She died of a blood clot resulting from a caesarean birth, leaving Matt a single father to daughter Maddy.
When Matt and Liz arrived at the hospital in 2009 for the birth of their first child, their main concern was for their unborn child. The baby's heart rate was plummeting as a result of the umbilical cord being wrapped around it's neck. An emergency caesarean took place and daughter Maddy was born.
The photo above is the only time mother and daughter met. 24 hours later, Liz died.
She had to rest in bed for 24 hours before she could get up to see her little girl who was in intensive care. Matt teased her that he was becoming a nappy changing expert and she begged for details of her little girl. Then, the moment had arrived. Matt and some nurses helped Liz to a wheel chair so they could take her to see her new baby.
Matt explains what happened next:
she got up from bed

(with the help of some nurses and me).

we joked about her new-found independence.

i told her that she

had to start waiting on me

because i'd been waiting on her

for 5 weeks.

she laughed,

and said,

"of course."

she walked to the mirror

and said,

"my hair looks like shit."

we all laughed

(because her hair looked great, especially for someone who'd been on bed rest for 5 weeks).

the nurse said,

"are you ready to go?"

she said,

"yes."

her excitement

was overflowing.

she turned around

to sit in her wheelchair

for her ride to see

madeline.

she said,

"i feel lightheaded"

and then she passed out.

we got her in to

her hospital bed.

doctors and nurses

rushed to help her.

but nothing could be done

to bring her

back.

no one to blame.

shitty luck

and

a pulmonary embolism

are what led us to

the saddest,

most horrific moment

of my life.
In an effort to deal with his grief he started an online journal and has received even more support. He says his daughter is a happy little girl. "She's doing incredibly well, in spite of my parenting. She's just a really, really happy kid."
The online journal has now become a book.