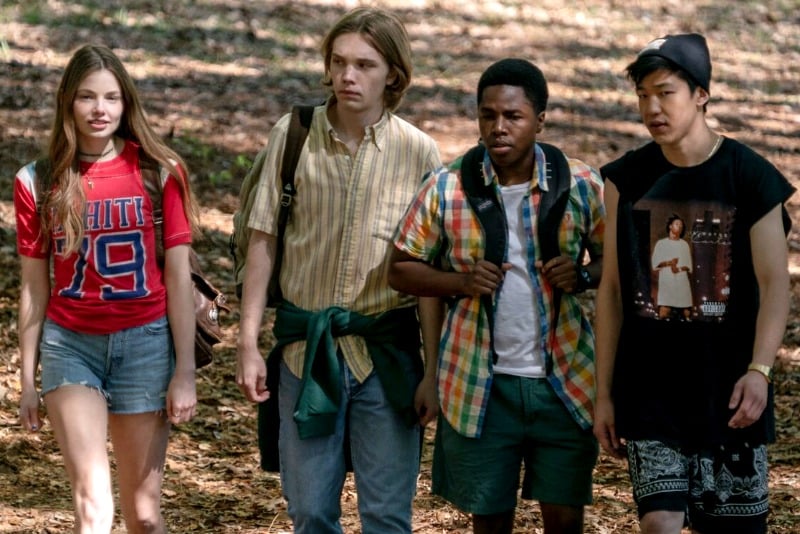 If there's one thing you never grow out of as an adult, it's an interest in teenage stories.
It's no industry secret that adult audiences are among the highest consumers of teen-focused books and TV shows. All because stories of first love, first heartbreak and trying to figure out who you are while feeling like the stakes of your life are so wildly high never really go out of style.
Stan's mesmerising new teen drama Looking for Alaska is one such appealing show. It's not just because it's been expertly crafted by Josh Schwartz and Stephanie Savage, the producing partnership behind hit shows like Gossip Girl and The O.C., and because it's based on the beloved and best-selling novel of the same name by author John Green (The Fault in Our Stars).
Looking for Alaska walks the line between presenting its teenage protagonists as both old souls and unsure kids who have built their own little world in the remote boarding school they call home.
It's a world filled with family-like ride-or-die friendships, unrequited love, brutal betrayal and a raging prank war between the 'haves' and the 'have nots'.
Take a look at the trailer for Looking for Alaska, now streaming only on Stan.
The series kicks off with high-school student Miles (Charlie Plummer) being farewelled by his parents at a going-away party none of his former classmates bothered to attend before he sets off for boarding school at Culver Creek Preparatory High School in Alabama.
Even though Miles is somewhat of a loner, once he arrives at Culver he is immediately taken into a tight-knit little gang made up of his new roommate Chip "The Colonel" Martin (Denny Love), Takumi Hikohito (Jay Lee) and Alaska Young (Kristine Froseth), a charismatic girl who supplies her friends with contraband cigarettes and alcohol but is also hiding a deep lingering pain.
Miles instantly becomes beguiled by Alaska, thinking that he's falling in love with her, but she continually keeps him at arm's length and instead attempts to set him up with another one of their classmates, the sweet Lara (Sofia Vassilieva).
Looking for Alaska is a series that takes a dreamlike yet realistic look at how falling in love for the first time can touch your life as a teenager. Unlike other TV shows that portray coming-of-age stories, the relationships in this one don't feel as if they've been pulled from a more adult narrative.