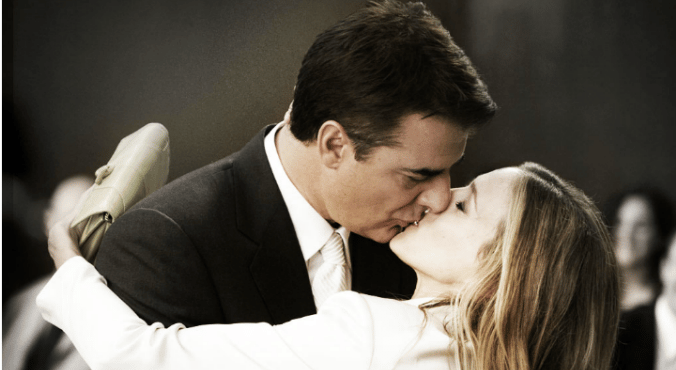 Image via Sex and the City/HBO.
I live in Orlando. He lives in Australia. At any given moment, there are 15,046 kilometres (plus, one hell of an expensive airplane ticket) separating me from my boyfriend. In fact, our time zones are so far apart that he technically lives "in the future" (because, right now, it's already tomorrow in Sydney).
Let me be clear, this man is the greatest love of my life. He's on my mind and in my heart constantly, but I only physically see him four times a year for two and a half week visits, and you know what? I wouldn't have it any other way.
RELATED: 16 modern signs your relationship is getting serious
Our relationship is pretty close to perfect, though naysayers give us an earful about it all the time. "You're crazy." "It will never last!" "How long can you sustain a long-distance relationship like that (and why would you even bother)?" "What kind of future can you possibly have?"
Actually, we have a rather bright, exciting, and beautiful future, thank-you-very-much. We're two years into this global romance of ours and it's the happiest, sexiest, and most meaningful relationship either of us have ever experienced.
And while we certainly miss each another, we've discovered that far-flung love comes with some surprising (and pretty darn spectacular) benefits.
RELATED: Goldie Hawn reveals the secret behind her 32 year relationship
Benefit 1: We have more sex than you (for real).
Let's debunk one myth, shall we. naysayers? If you're thinking you could never go that long without sex, well, I'm here to tell you that despite big gaps in time spent apart, my boyfriend and I most likely have way more sex than you. Impossible, you say? (Post continues after gallery.)
The on-screen orgasms that got us talking.
Well, research shows that the average cohabitating couple has sex twice per week (that's 24 sex acts over 3 months). During our two and a half week visits every three months, we easily average sex two to three times a day (you do the math). Sure, the daily number of romps is less when the kids are around, but far more when they're not.
With that said, I have to tell you — the long-distance perk here isn't in the quantity of sex; it's the quality! Even though we steadily grow and deepen our emotional connection while apart by communicating daily (Skype date, anyone?), the one thing we can't share while separated is physical touch.
RELATED: 10 reasons why sex during winter kind of sucks
Our bodies forget each other just a little bit, but enough to make that initial intimate contact at the start of every visit feel like we're having sex for the very first time (over and over again). Senses are heightened, the intimacy is both soulful and primal, and the anticipation of every subtle touch is downright thrilling.
In the days that follow, our sexual rediscovery ranges from passionate and erotic adventures at night (please, don't hate us, upstairs neighbour), to sweet sleepy lovemaking at dawn and wonderfully playful sex in the afternoon. Yeah, you can keep your infrequent maintenance sex, cohabiters, the I-missed-you-so-much reunion sex is so much better.