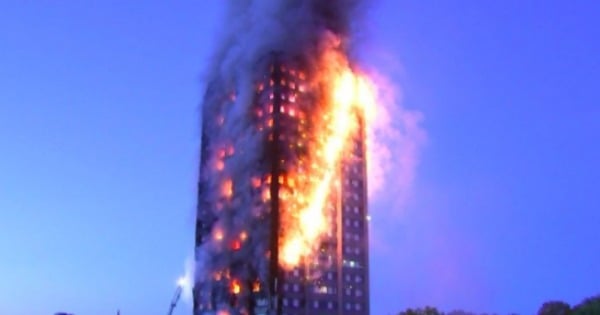 Nobody would have been able to escape above the third floor of a burning London council 27-storey apartment block, a witness has told the BBC.
Jody Martin was describing the distressing scene at a west London tower block which was engulfed in flames early on Wednesday around 1am.
"I have watched one person falling out, I watched another woman holding her baby out the window on the – also on the west side of the building hearing screams. People screaming," he said.
An unknown number of residents are trapped inside the block of 120 apartments which is home to about 200 people.
The ambulance service said at least 30 people have been taken to hospital.
The fire almost entirely engulfed Grenfell Tower in the London suburb of North Kensington from the second storey up to the 27th, with dramatic pictures posted by the fire brigade showing huge tongues of flame licking up the side.
Martin was on the scene early and said he grabbed an axe to get inside but was forced back by smoke, as were firefighters.
"It didn't look like they were going much past, I'd say, the third or the fourth floor. From my point of view, the thickness of the smoke, nobody would have been able to get out from the third floor upwards without assistance of fire crew and – I don't think the fire crew went up any higher than that," he told the BBC.
He described how he'd seen "people inside the apartments waving bits of cloth, flashing phones and slowly those apartments are getting engulfed in smoke and then getting engulfed in flames".
London Mayor Sadiq Khan said a "major incident" had been declared.
Other witnesses said they could hear screams coming from the building.
English actor and writer Tim Downie, who lives about 600 metres from the scene, told Press Association that he feared the block could collapse.
"It's horrendous. The whole building is engulfed in flames. It's gone. It's just a matter of time before this building collapses," he said.
George Clarke, a television presenter who lives nearby, told BBC Radio 5 Live he could see people at the top.
"It's so heartbreaking, I've seen someone flashing their torches at the top level and they obviously can't get out."