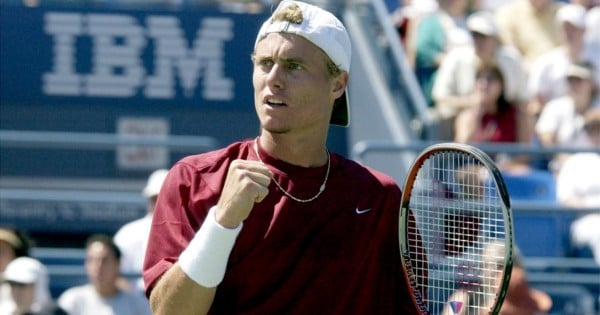 Last night, Lleyton Hewitt played his last game of professional singles tennis. With a wink and a smile to his victorious opponent David Ferrer, he has ended an era. His era.
He went down in straight sets, and as usual, gave 110 per cent. There were points that took an eternity, advantage point after advantage point. "I left nothing in the locker room," he told the post-match crowd.
He looked exhausted, his shirt wringing wet with sweat.
It's what we've come to expect from him. Remember 2008? The match that finished at 4.33? In the morning? With the birds starting to tweet around Melbourne Park, a younger Lleyton slogged through five gruelling sets against Cypriot Marcos Baghdatis.
It was the latest finish in Grand Slam history. Lleyton won, and in vintage Lleyton form – close sets, a tie break, 4-6, 7-5, 7-5, 6-7 (7-4), 6-3. 'C'mon!'
Watch highlights from that match here. Video via Channel Seven. (post continues below):
But we won't see a game like it again.
At almost 35, he's a grandpa of the game. He's the dogged, determined champion who made it to the top, willed his country into contention for Davis Cup glory on 58 occasions, married a television star and became a dad to an adorable blonde brood.
He's the commentator who has made us understand what it's like on the other side of the net, facing a small ball hurtling at unimaginable speed and an opponent who won't show a scrap of mercy.
And yes, tonight, after his loss to world number 8 David Ferrer, Australia loves Lleyton. There's no plaudit too big, no hyperbole too great, to describe his hard-fought and well-earned achievements. This was his 20th Australian Open, and he deserves every one of them.
But it wasn't always like this.
Lleyton was once our bad boy.
We were appalled when he used the word 'spastic' during a tirade against an umpire. No one felt like a winner (though Lleyton ultimately was) in his 2005 Davis Cup match against Argentinian Guillermo Coria; it's never nice to watch players mimick each other, yell and diss the umpire. He's been spat at and jeered by crowds, and ignored it all.