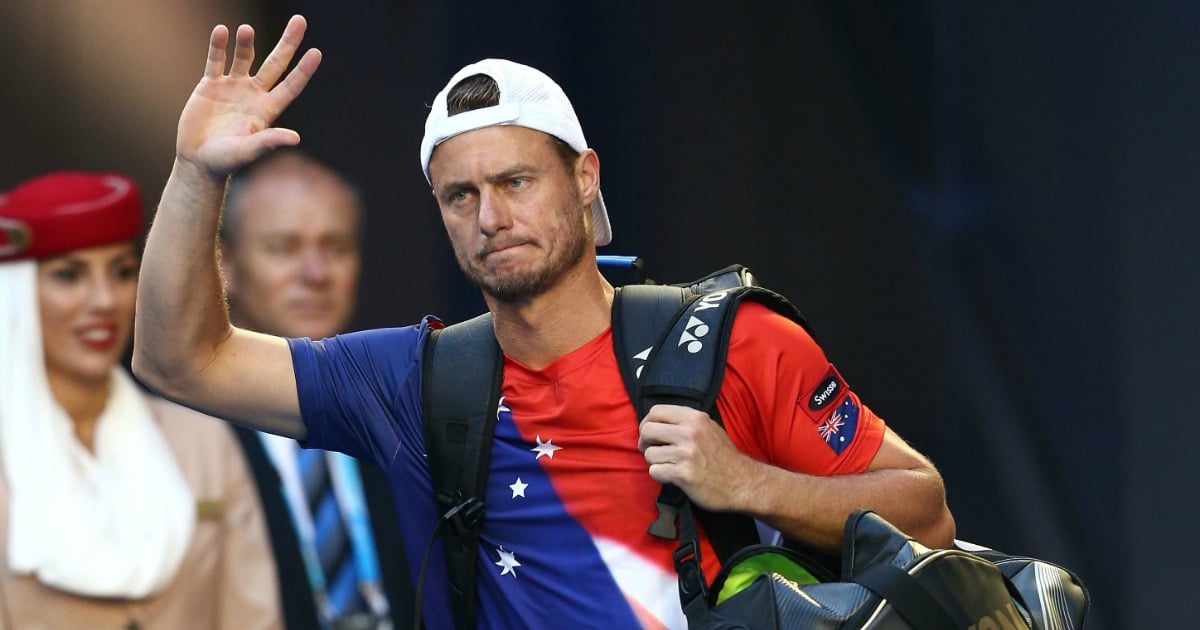 Last night, Lleyton Hewitt played his last game of professional singles tennis. With a wink and a smile to his victorious opponent David Ferrer, he has ended an era. His era.
He went down in straight sets, and as usual, gave 110 per cent. There were points that took an eternity, advantage point after advantage point. "I left nothing in the locker room," he told the post-match crowd.
He looked exhausted, his shirt wringing wet with sweat.
It's what we've come to expect from him. Remember 2008? The match that finished at 4.33? In the morning? With the birds starting to tweet around Melbourne Park, a younger Lleyton slogged through five gruelling sets against Cypriot Marcos Baghdatis.
It was the latest finish in Grand Slam history. Lleyton won, and in vintage Lleyton form – close sets, a tie break, 4-6, 7-5, 7-5, 6-7 (7-4), 6-3. 'C'mon!'
Watch highlights from that match here. Video via Channel Seven. (post continues below):
But we won't see a game like it again.
At almost 35, he's a grandpa of the game. He's the dogged, determined champion who made it to the top, willed his country into contention for Davis Cup glory on 58 occasions, married a television star and became a dad to an adorable blonde brood.
He's the commentator who has made us understand what it's like on the other side of the net, facing a small ball hurtling at unimaginable speed and an opponent who won't show a scrap of mercy.
And yes, tonight, after his loss to world number 8 David Ferrer, Australia loves Lleyton. There's no plaudit too big, no hyperbole too great, to describe his hard-fought and well-earned achievements. This was his 20th Australian Open, and he deserves every one of them.
But it wasn't always like this.
Lleyton was once our bad boy.
We were appalled when he used the word 'spastic' during a tirade against an umpire. No one felt like a winner (though Lleyton ultimately was) in his 2005 Davis Cup match against Argentinian Guillermo Coria; it's never nice to watch players mimick each other, yell and diss the umpire. He's been spat at and jeered by crowds, and ignored it all.
Asked his thoughts after he was booed at the end of a 2001 game tainted by allegations of racist remarks, he responded "Didn't hear it mate" (he also denied his comments were racist).
Lleyton was too brash, too outspoken. The way he yelled 'C'MON' got under people's skin. His hair was too long. He didn't say sorry when we thought he should.
And he wore his cap backwards.
Lleyton should have been deferential – instead he was fierce. He shouldn't have yelled. He did. He should have had manners – instead he took it up to the umpires and the champions and fought. For Every. Single. Point.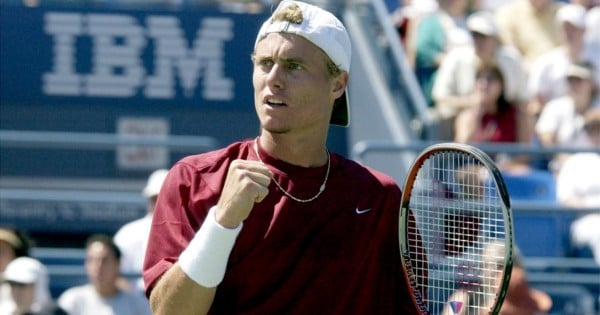 In countless games, we'd be ready to give up on him only to see him come back and take the match in five sets. He could be 5-1 down, then win the set. He'd never, ever give up.
But that was Lleyton from the day he qualified for his first Australian Open at just 15, an obscenely talented, fresh-eyed kid who didn't really give a bugger about what people thought of him, on court or off.
A year later, in 1998, he beat Andre Agassi in the Adelaide International. The same Andre Agassi who had Wimbledon, US and Australian Open titles under his belt. The same Agassi who was older, seasoned and blooded against the likes of greats like Pete Sampras and Stefan Edberg – and he goes down to a peeling-nosed, blue-eye Aussie kid.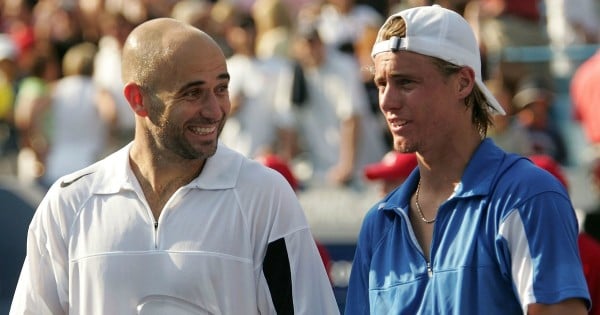 "I should've given him more respect," Agassi said later.
Respect wasn't ever part of Lleyton's vocabulary. But over the years, it became part of ours.
He battled through injury, using pain killers, ice baths and massage just to keep on the court. He's had toe surgery, foot surgery and hip surgery. That's to say nothing of the fact that he looks chronically sunburnt.
And all the while he's just kept playing.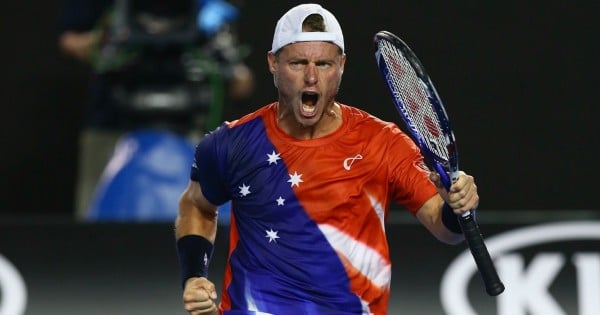 So yes, it's his tenacity and resilience that has changed our minds about Lleyton.
But maybe it's also as simple this: Lleyton has grown up, and we've been there to watch him. We've seen him go from a skinny teen – remember 'Little Lleyton'? – to a statesman of the game. We've watched him battle bigger, stronger opponents, live to tell the tale, and now pass his learning onto our next great hopes by mentoring the likes of Nick Kyrious and Bernard Tomic as Davis Cup captain.
"… I think Lleyton will be a big help to those guys," Aussie tennis legend Tony Roche told The Canberra Times.
And, of course, through the pages of the gossip mags, we've watched him have a family of his own.
Mia, Ava and Cruz were there to watch with mum Bec when Hewitt dispensed of fellow Australian James Duckworth in the first round of this year's Australian Open, seven-year-old Cruz waving a home-made sign, stuck with cut-out pictures of his father in action (and dapper in a black suit), emblazoned with the heartfelt words 'Go dad'.
It was impossible not to well up when he listened to a recording of his kids singing "You're the greatest dad, we're so proud of you …" in an interview with Channel 7 before that match. And again tonight as they chatted, oblivious to the magnitude of the moment, walking with their dad back to the locker room.
The most heart-felt of his post-match thankyous was reserved for his wife.
"Bec – she's my rock, I love her so much," he said.
We'll probably argue about where Lleyton ranks in Australian tennis history. There's a lot of competition: Rod Laver, Ken Rosewall, John Newcombe.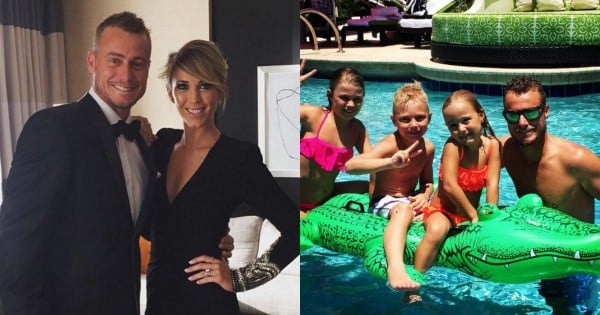 Like Pat Rafter, he's won two Grand Slam titles, the US Open in 2001, and the slam often considered the heart of the game, Wimbledon, in 2002. He was the youngest player to take the number 1 spot, and he held onto it for 80 weeks in his career – 75 of them consecutive.
Sure, it's well behind legends like Federer (302 weeks at number 1) and Sampras (186), but it puts him well ahead of Newcombe (8) and Rafter (a single week at the top).
But long after we've forgotten the rankings, and which titles he won and which he didn't, we will remember this: a feisty, gritty, talented, red-faced, uber-focused champion, legs tearing as he stretches for an seemingly impossible ball.
And you know what we'll think?
'C'MON!!'