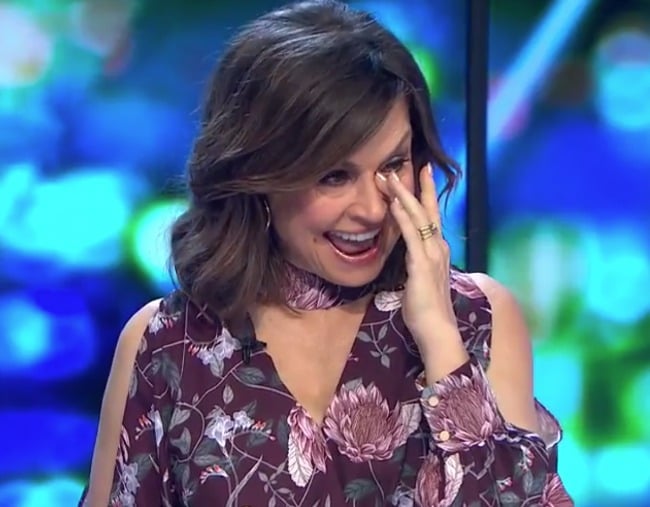 For some, Mother's Day can be a bittersweet moment that's less of a celebration and more of a reminder of a mum that is no longer with them.
Tonight's hosts of Sunday Project Lisa Wilkinson and Sarrah Le Marquand are examples of two such women. Both mums themselves, Wilkinson lost her mum two months ago, and Le Marquand's mum passed away when she was 17.
However, their co-hosts had a surprise for them.
While they couldn't bring their children to the studio itself, The Project team did the next best thing and asked Wilkinson's three children – Louis, Billi and Jake – to film a special message for their mum.
"Wishing you guys a Happy Mother's Day to my mum and all the mums on The Project," said Louis from South Korea.
"We're so lucky to have such incredible and dedicated mum. I can't wait until we are all together again so we can shower you with love and gifts. We love you to bits," said Billi.
Appearing with his cat, Jake shared a similar message.
"Me and my grumpy little cat wanted to wish you a happy Mother's Day. To the hardest working mum in Australia, love you mum," he said.
It was pretty adorable. You can watch it all unfold right below:
Wiping away tears after the video, the presenter was clearly very moved.
"That's very sweet. It's my first Mother's Day without my mum. I only lost her two months ago. That's really, really special," she said, before sharing her heartfelt message.
"Mother's Day isn't a really great day for some people, but I want you to know that I am thinking of you as well. Happy Mother's Day," she said.
Le Marquand had a similar message to share:
"Most of my Mother's Days [have been] a sad occasion for me, and they really only became a wonderful time again when I had my children eight and six years ago," she began.
"Whether you have lost your own mother or whether you've lost a child or for the women who want to have children and can't.
"I want to send my love to everybody who for whatever reason is [having] a hard day [today]," she said.