It's been a long time between drinks for Lindsay Lohan, who blessed us with cult comedies such as Mean Girls and Freaky Friday in the early 2000s.
But after taking a few years off, she's set to hit our small screens in a brand new role.
Starring alongside Harry Potter favourite, Rupert Grint and popular British comedian, Nick Frost, Lindsay will star as an assertive career woman in the second season of the UK black comedy, Sick Note.
And is it just us, or is her asymmetrical lob giving us major throwback vibes to one of our other all time favourite comedies from the talented red head?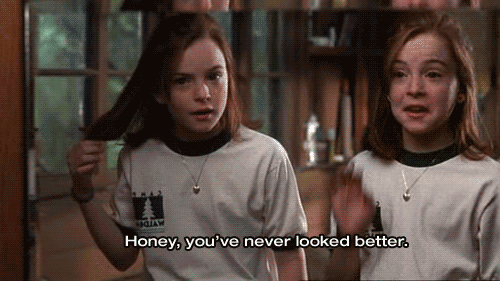 You said it, Hallie.
Although we won't be seeing Lindsay in Sick Note until later this year, The Parent Trap is currently available on Netflix at a couch near you.
What's your favourite Lindsay Lohan movie?
Listen: We ask the woman behind Wentworth's 'The Freak' all our burning questions.