It was a moment in which politics and disagreements and – for the first time – sexuality were finally put aside. And love, pure happiness and equality, flooded in.
Australia said 'yes'. 
Magda Szubanski and Ian Thorpe shared a kiss.
I am Australian was sung in federal parliament.
And Labor frontbencher Linda Burney – who lost her gay son only weeks ago – was lifted off her feet.
She leapt across the aisle and into the arms of veteran Liberal Warren Entsch, a crocodile hunter from far north Queensland and a Liberal National MP in the House of Representatives.
It was a unifying moment rarely seen in politics.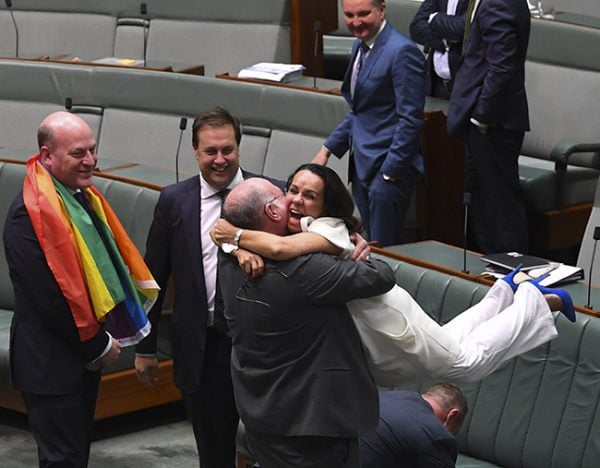 Entsch was one of the five men - he was the only straight man in the five - who helped draft the private bill that became law on Thursday.
Before the final vote, Entsch made special note of Burney's contribution to the debate in which she honoured her son, 33-year-old Binni Kirkbright-Burney, who died six weeks ago.
"I support marriage equality as someone who has, and has had, loved ones who identify as LGBTIQ," Burney told parliament through tears on Wednesday.
LISTEN: Mia Freedman speaks with Janine Middleton, the CEO of Marriage Equality Australia who made the YES vote happen. Post continues after. 
"To them, marriage equality would mean so much. I honour these people and, in particular, my late son Binni."
The reaction of the pair - two people from different backgrounds and different parties - when the bill finally,  finally, passed, was the reaction of us all:
There was joy, relief, and a little bit of heartbreak at the suffering that has come before.