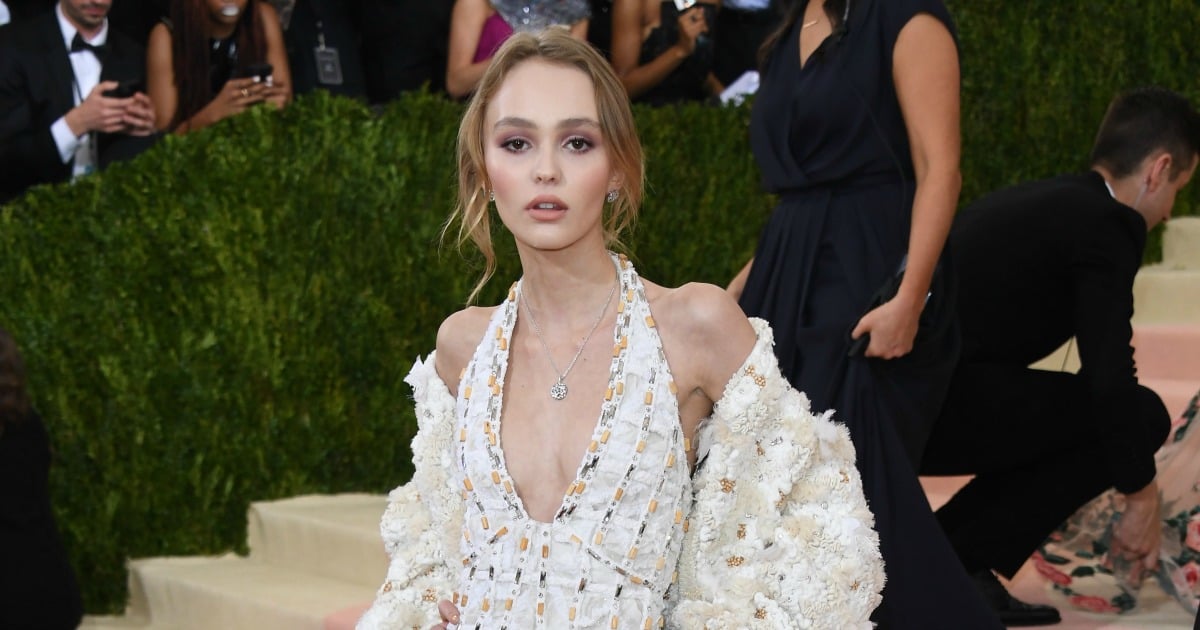 At my Year 12 formal, I looked like a foot.
An uncomfortable, short, not-at-all-fashion-forward, foot. Being 17 and dressing up is awkward for the best of us, but for the rich and famous, it's entirely effortless.
For Lily-Rose Depp, her prom was just another night of looking like she was about to step out onto a runway. It's no surprise really, given that she's the face of Chanel, has appeared on several high profile red carpets, and is currently starring in a new indie film, Yoga Hosers. 
The last few weeks have been a tumultuous time for Lily-Rose and her family, but the 17-year-old seems to be enjoying some semblance of teenage life, spending her LA formal night with friends, and reportedly, a date.
Her full-length, nude, tank-style dress is an outfit only about 0.000005% of the population could pull off. And it's so, so far from anything the average prom-goer would consider wearing. 
Where's the satin?? Where's the blotchy fake tan? WHERE IN GOD'S NAME IS THE OVER-THE-TOP SMOKEY EYE?
At 17, you're not even meant to understand the meaning of the word 'understated', let alone be able to apply it to your clothing choices. While Lily-Rose clearly believes in the rule, 'less is more', my teenage self was adamant that 'more is most definitely more', and as a result, one comment on my Myspace formal photo read, "you look like a chihuahua."
Let's just say I got a little carried away with the hair teasing and the smokey eye. 
But it wasn't just Lily-Rose who managed to nail a perfect formal look. Her equally glamorous Yoga Hosers co-star, Harley Quinn, wore a sleek, black dress that looked like it came out of a movie set, rather than the typical ill-fitting impulse-buy most of us end up with.
The only similarity between my formal and this one, is that it would appear there were overly-keen parents documenting the whole thing. Harley's dad, Kevin Smith, shared the above photo of his daughter and Lily-Rose to Instagram.
And the girls 'grammed the occasion too (obviously).
Baes A photo posted by Diva (@divabella) on
Baes, indeed.
I can't help but notice: why aren't they smiling?
While Lily-Rose and co's formal looks are undoubtedly stunning, I do believe there's something to be said for the pure joy that comes from looking back at old formal photos and laughing at your obscene outfit choices.
My mum wore a red pant-suit. It was excellent.
So while Lily-Rose Depp is definitely #FormalGoals as the youngens are saying these days, it's important to remember that in no way is she your typical 17-year-old.
TAP on the image below and scroll through the gallery to see more photos of Lily-Rose…