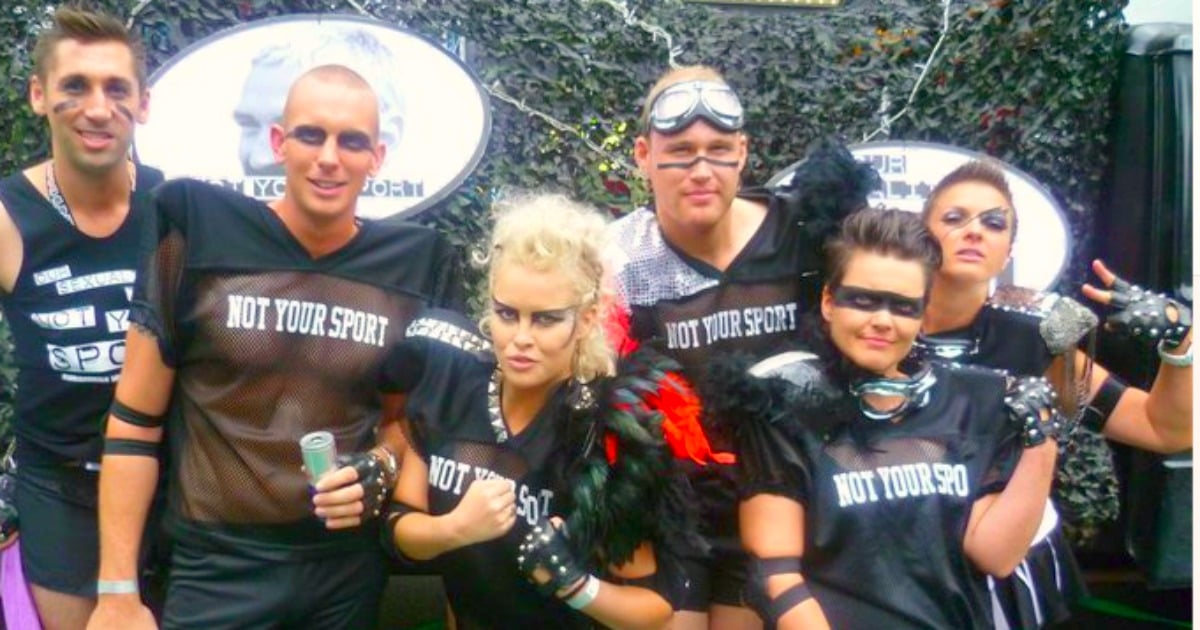 Let's just get something clear from the get-go: I don't dance.
I mean, I can sway fairly convincingly at a live gig, and I'll be pulling shapes with the best of them on a 2am dancefloor.
But dance dance? Like choreographed, don't-forget-the-moves, kick/spin/jazz hands kind of dancing?
Nuh. NO WAY.
With that in mind, way back in 2011 I took a Janet-Jackson-style step out of my comfort zone – and agreed to dance in the Melbourne Pride Team Mardi Gras float.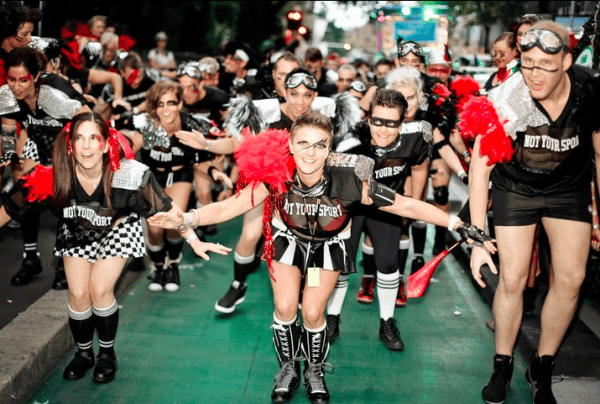 As a straight girl with an outstanding friendship circle that includes many, many LGBTI pals, sexual orientation is never really something that I register when it comes to contemplating my mates.
Gay, straight, crinkle cut – I don't care. But as the years have gone on and friends have struggled with very real issues associated to their orientation, such as marriage, adoption, and pregnancy, I found myself becoming very protective of them.
It was therefore an honour to walk – no, DANCE –  with the Melbourne Pride Team on their 2011 'Not Your Sport' float.
When I was preparing to write this article, I looked back through the grainy footage of our float. And, apart from the first flush of Oh my god, could I get any more awkward? a big grin was stretched across my face. What a fun night, and what an unforgettable experience!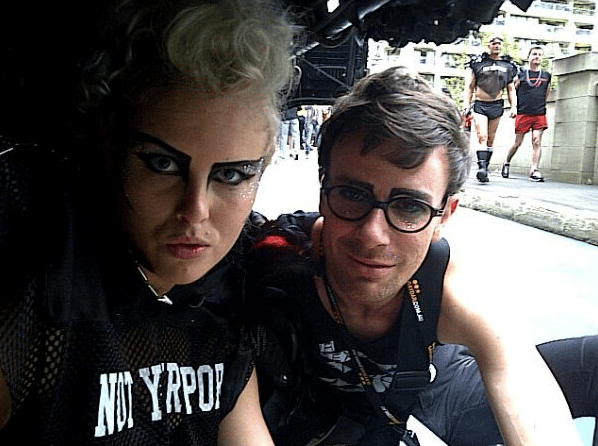 After training for months leading into the parade, the Melbourne Pride team had put together a killer routine to Missy Elliot's We Run This. I still can't hear that song without getting nervous jitters.
The theme was American gridiron player meets…er, well, I don't really know. Sexy stripper? Space lingerie? Futuristic football alien model stripper? You be the judge.
Watch some footage from the 2015 Mardi Gras below!
(Post continues after video)
The day of the parade was spent getting ready in our hotel room, amidst a sea of bobby pins, hairspray, glitter, and me dry-retching at the thought of dancing. Dancing in front of a crowd. Dancing in front of TELEVISION CAMERAS.
But, after hours of pacing and panicked last minute dance practice, it was time to leave the building. In black pleather hotpants, fishnets, a football jersey and a mohawk, I caught the elevator down to the street, took a deep breath, and walked out with the crew.
And can I tell you, that's when the party started.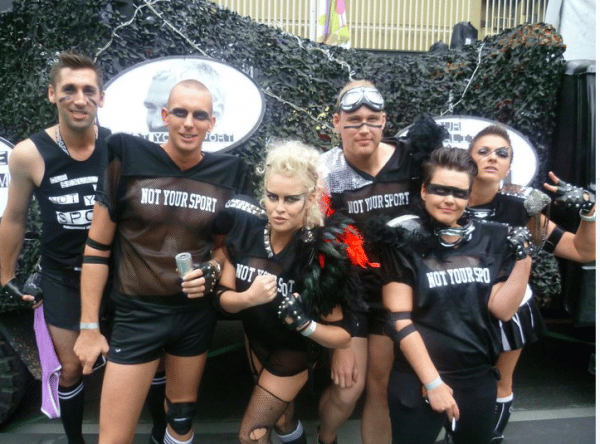 Any sign of nerves disappeared as we joined the hordes of performers heading towards the start zone. We were blasting music, jumping around, hi-fiving, and doing a great job of pretending like we were a professional dance troupe… not a ragtag group of students, lawyers, mothers, public servants, and other non-dancing professions.
We felt like SUPERSTARS.
I get goosebumps just thinking of that moment that our music started playing, and we took the step out onto Oxford Street. The rest is a blur – cheering crowds, beating hearts, ecstatic looks exchanged between the group. It was exhilarating, and terrifying, and such a massive honour to dance alongside my closest friends and celebrate THEM.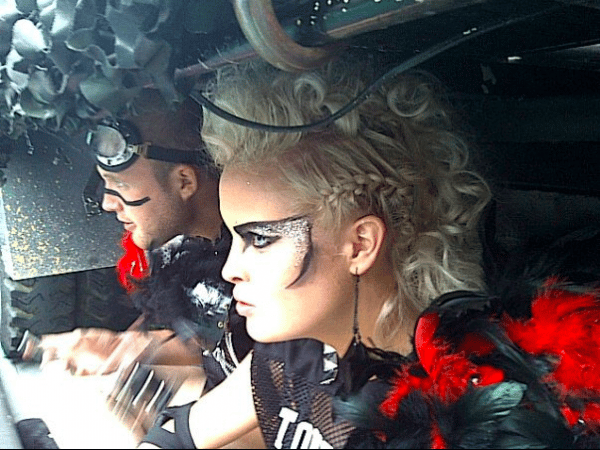 Did I forget any moves? Nothing major.
Did my butt fall out of my pants on national TV? Well, kinda.
Was it one of the best risks I had ever taken? ABSOLUTELY.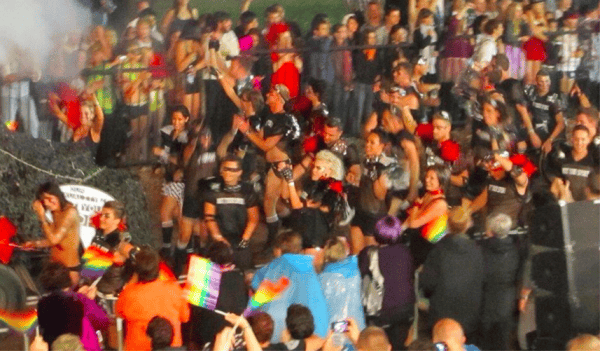 If you ever get the opportunity to throw on a skimpy costume and support our country's LGBTI family in the Mardi Gras parade, for goodness sake, say yes! I did, and loved every minute. (Except maybe the ten minutes before we went on. I was very, very nervous…)
Behind the glitter and the rainbow flags, after all, is a glaring issue that still has, unbelievably, not found resolution in our country.
Same-sex couples are STILL being treated as second-rate citizens, and are denied basic rights that they more than deserve.
So whilst we march to celebrate our fabulous queer community and the joy each and every one of them bring to our lives, we also march in protest.
We march because same-sex couples cannot legally marry.
We march because one in five LGBTI Australians experience physical homophobic abuse in their life.
We march because same-sex couples cannot claim carer's leave for a dying partner.
We march because because of the tax breaks, financial aids, and work-related laws that are still not available to same-sex parents.
We march for their kids who grow up being told their parent's love is shameful, and less deserving than another's.
We march because we are all born equal, and sexual orientation has nothing to do with it.
You can make a difference: jump onto www.australianmarriageequality.org and find out how.
Happy 2016 Mardi Gras, folks!