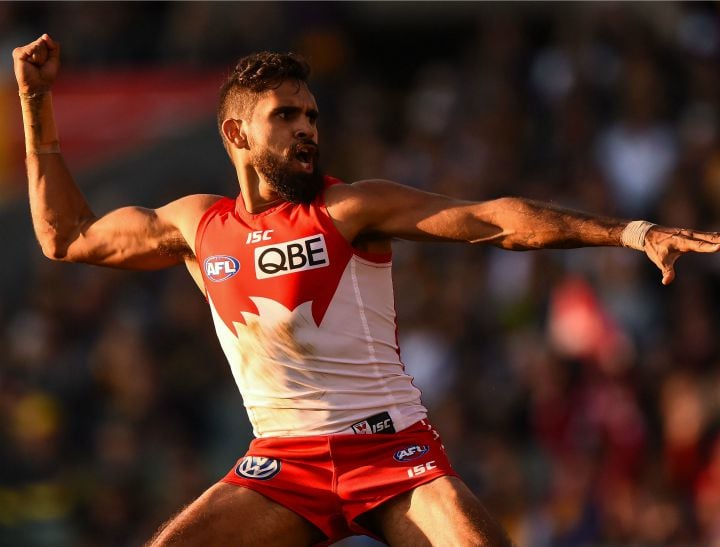 Here we are again…
Earlier this year, the nation worked itself into a frenzy over a certain "war dance" performed by former Australian of the Year Adam Goodes at an AFL match.
In May, Sydney Swans player Goodes mimed throwing a spear as a sort of celebratory expression, as well as a nod to his Indigenous heritage.
But some commentators were quick to call out the move as "aggressive". Violent. Unnecessary.
Ever since, Goodes has been continuously booed during matches by supporters of the opposing team. That's 15 or 16 weeks of bad-natured boos.
But this past weekend, one of Goodes' teammates had enough.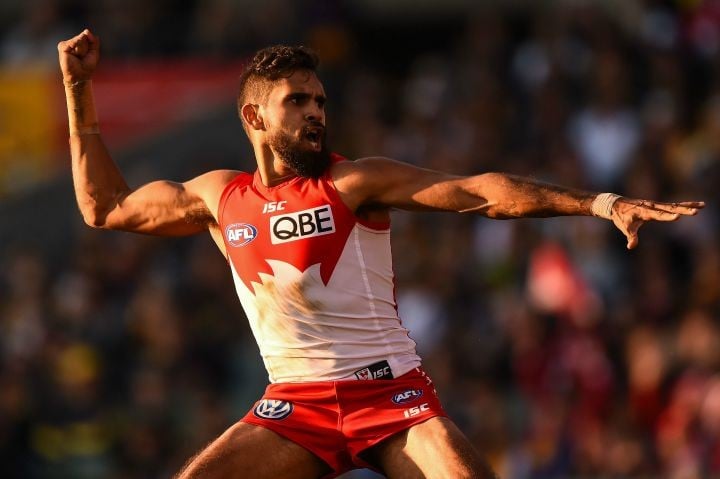 The Herald Sun reports fellow Sydney Swans player, Lewis Jetta, reprised the war dance during the Swans' match against the West Coast Eagles — re-opening this strange can of worms.
Jetta explained the move was to show support for Goodes, in the face of ongoing abuse hurled at him by spectators.
But, again, commentators were seemingly threatened by the display.
For Goodes, the dance was an expression of his heritage. For Lewis, it was a show of solidarity.
As far as we're concerned — these are the only explanations required.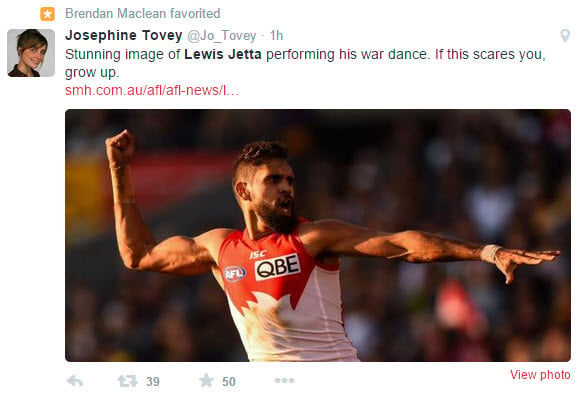 AFL chief Gillon McLachlan has called for an immediate end to the booing, saying "sheep-like" crowds don't even know why they're booing Goodes.
"This is something that has not been going on for a few weeks, this is months now. And I just don't know that it reflects well on our game and people have had enough of it," McLachlan told 3AW.
"Whatever the point is, I think it's been made."
Perhaps the question that needs to asked is not about the meaning of the "war cry", but what is the deal with those who object to it?
This point was raised by Waleed Aly after the Adam Goodes controversy in May.
Watch Waleed Aly's awesome analysis of the Adam Goodes' 'war dance'. Post continues after video.
"It's about the fact that Australia is generally a very tolerant society until its minorities demonstrate that they don't know their place. And at that moment, the minute someone in a minority position acts as though they're not a mere supplicant, then we lose our minds. And we say, 'No, no, you've got to get back in your box here'," Aly said on ABC TV.
Related content: Waleed Aly owns the debate over Adam Goodes' war cry.
"What happens is the minute an Indigenous man stands up and is something other than compliant, the backlash is huge and it is them who are creating division and destroying our culture. And that is ultimately what we boo. We boo our discomfort."
This is just the reminder we need today.
What are your thoughts on this "spear-throwing" move?
Related content:

Adam Goodes speaks out about his terrifying childhood.

Watch Waleed Aly deliver his most important segment yet.

Waleed Aly slams the government for not spending more on domestic violence prevention.