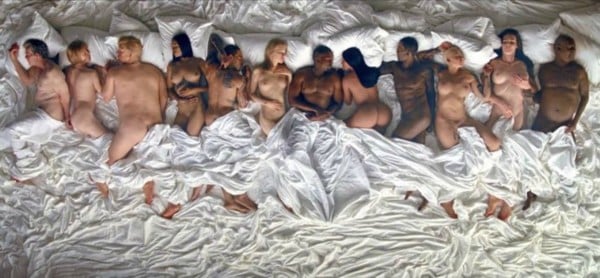 Since Kanye West premiered the music video for his song 'Famous' on Friday night, the world has erupted into conversation about what it means and why it's important.
Now, actress, writer, producer, and Jill-of-all-trades Lena Dunham has weighed in, arguing that the clip is "one of the more disturbing 'artistic' efforts in recent memory".
For those who are yet to see it – the central image of Kanye's video depicts a host of (wax versions of) naked celebrities 'in bed' with each other. Those featured include Donald Trump, Rihanna, Chris Brown, Taylor Swift, Kanye West, Kim Kardashian West, Caitlyn Jenner and Bill Cosby.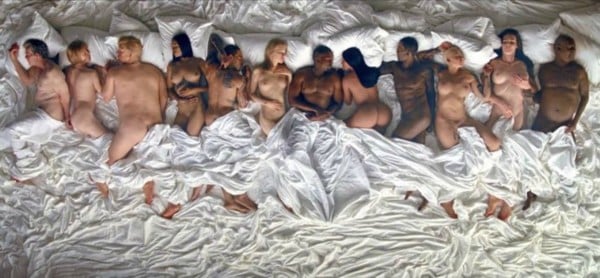 In a Facebook post, Lena Dunham writes, "Like many pop culture addicted Americans, I wait with bated breath for what Kanye West will do next. Aside from his Twitter mayhem, he has created some really "next level shit" as the kids would say. I could also happily watch Kim Kardashian West chip the paint off a window ledge for hours and be fascinated."
She does, however, have ideological issues with Kanye's video, and argues "it's possible to hold two competing thoughts in your mind."
Dunham has put words around something I couldn't quite articulate myself.
"Let's break it down: at the same time Brock Turner is getting off with a light tap for raping an unconscious woman and photographing her breasts for a group chat... As assaults are Periscoped across the web and girls commit suicide after being exposed in ways they never imagined... While Bill Cosby's crimes are still being uncovered and understood as traumas for the women he assaulted but also massive bruises to our national consciousness... Now I have to see the prone, unconscious, waxy bodies of famous women, twisted like they've been drugged and chucked aside at a rager? It gives me such a sickening sense of dis-ease."
Watch Lena Dunham's glorious interview with Hillary Clinton. Post continues after video.