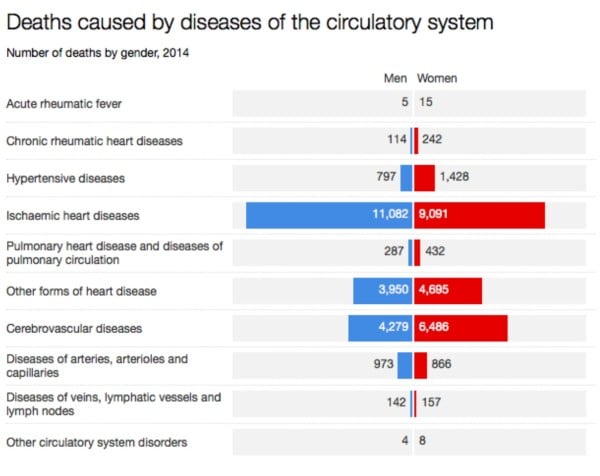 By Garry Jennings, Baker IDI Heart & Diabetes Institute
Diseases of the heart and the vessels running to and from it are the number one reason people die in Australia, and we're not alone. They are the number one cause of death in the world.
According to the Australian Bureau of Statistics, ischaemic heart disease (IHD) is the leading cause of death in Australia. In 2014, 20,173 people died from it.
But ischaemic heart disease is not really the disease itself. Rather, it is the term used to cover the clinical manifestations of coronary heart disease such as heart attacks and angina.
Coronary heart disease.
Coronary heart disease is almost always a consequence of atherosclerosis. This is a build-up of cholesterol and other material in the walls of our arteries (tubes that carry blood and oxygen to the heart). The build-up can cause heart attack and block access to the brain, leading to stroke – another of Australia's top killers.
Ischemia describes insufficient oxygen supply to the heart muscle. Lack of oxygen can cause discomfort in the chest, such as a tightness or squeezing known as angina. This is most often brought on by exercise but is more serious when it happens at rest.
Watch: Ovarian cancer is another leading cause of death in Australia. Could you recognise the signs? Post continues after video.
Persistence of angina over time, particularly at rest, can lead to death of some heart muscle. This is called an acute coronary syndrome, or colloquially, a heart attack. We used to call this myocardial infarction.
No wonder people find the terminology confusing.
The Australian Bureau of Statistics classifies ischaemic heart disease as the leading cause of death in Australia. Cerebrovascular diseases (stroke) are the third, heart failure is at number seven; hypertensive diseases are at 13, and cardiac arrythmias at 19.