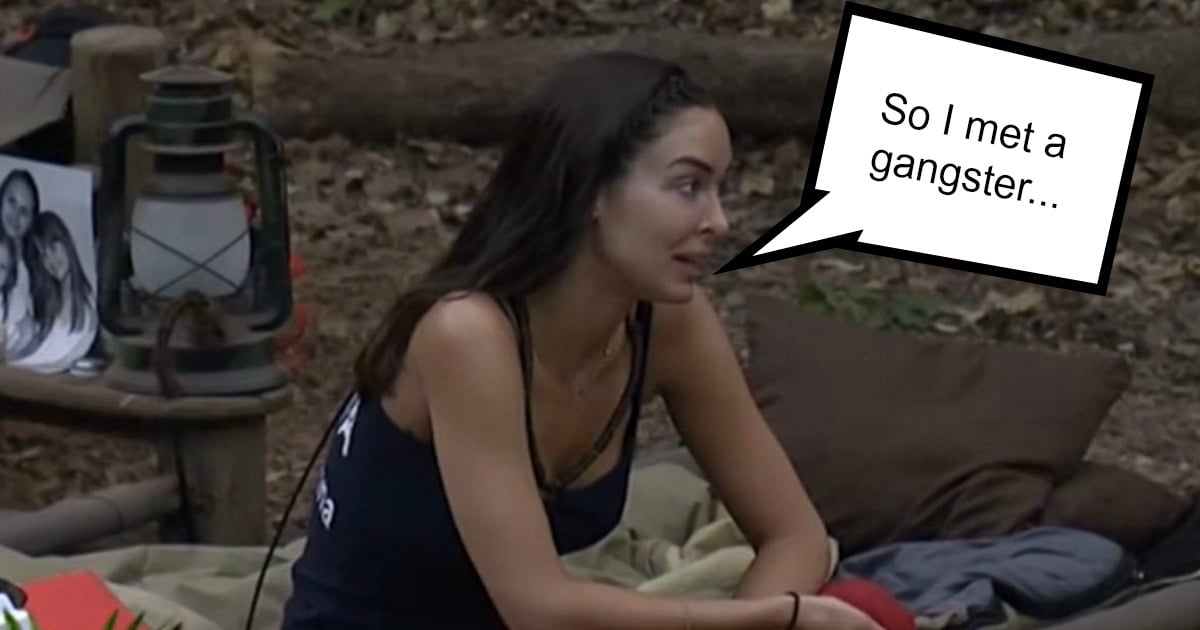 What year are we in again?
We are completely confused and think perhaps we've all been transported back to 1954 in the biggest time machine ever. It's amazing the lengths Channel 10 will go to for a reality TV show.
Last night on I'm a Celebrity Get Me Out Of Here! Tucker Trial favourite Laurina Fleure swapped a little story with her jungle mates about when she was 19 and worked as a waitress in a strip club.
Fleure told fellow contestants, including Havana Brown, Val Lehman and Jo Beth Taylor, that she worked as a waitress in a strip club… for about six weeks.
"My goal in life when I was 19 and I dropped out of uni was to work the VIP room and get really good tips and meet a gangster," she said obviously a bit tongue in cheek.
"That's a great ambition," scoffed Lehman. But that didn't distract Fleure from her anecdote.
"Yeah, I know, I know," she said. "So, I met a gangster but then I got into modelling and went travelling all around the world so I never made it to the VIP room to get them tips."
The revelation had a few in the house tut-tutting and shaking their heads — performer Anthony Callea, Jo Beth and Val particularly. It was an interesting reaction from supposedly "open-minded" veterans of the entertainment industry. For a moment we thought the African jungle was holding a Christian Democrats convention.
Jo Beth Taylor had her snippy pants on, saying that while other contestants like to keep things private "Laurina likes to share things." News flash Jo Beth: you've decided to take part in a reality TV program where you are filmed 24/7, the keeping-things-private ship has well and truly sailed to Antarctica.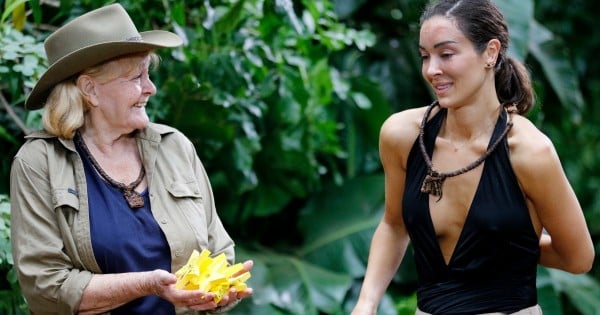 In her diary-room interview, Lehman, 72, told the audience she would have set her sights much higher. She was 19, Val. It was six weeks, Val. She was a waitress earning really good money. We're thinking she might have been a little young for Justice of the Supreme Court.
Fleure said that despite never making it to the longed for VIP room, she earned "six or seven hundred dollars for working a five hour shift as a waitress just dressed as a little bunny".
She even put her hands up to make little bunny hands as she explained. It was a bit of fun people.
Things are getting serious in the jungle. Check out the promo for tomorrow's episode here (post continues after video):
In the small room that looks like a foot massage place, Fleure admitted her goal was to get the group bonding, chatting, swapping stories. "Ideally someone else would turn around and tell a wild story too and then all get a bit loose and laugh and break down the barriers a little bit but its not happening."
No Laurina, they're too busy waiting for you to say something they can pounce on and snigger at later. She was a waitress when she was 19 at a strip club. Call in the moral police and let's pop some fair-trade party poppers. Maybe she's sunbaked topless too when she was 21? What is the world of celebrity reality TV coming to? Their backstories are pure filth.
Oh, and the jungle's Conservative Party is also busy waiting for Laurina to go out and win them some food. Last night was Laurina's 10th Tucker Trial, which made her equal world record holder with some contestant from a far flung country probably still in recovery from a twisted bowel. But even after coming back with the seven stars out of a possible nine in a trial where she was blindfolded, walked through a cave, pelted with (literally) shit and other goo, and had to collect stars from pythons, lizards and cow dung, Val told Jo Beth later that Laurina gave up too early. Then they had a little laugh.
Again, we have to wonder if producers are suffering a sustained case of food poisoning resulting in a very quick slash and burn get-me-out-of-here-to-the-nearest-loo edits, because it is not clear to the viewer exactly what Laurina is doing to make the camp so Year 9 private girls' school.
Yes, she talks a bit too much and sometimes is awkward with her timing, but she also pulls men like Shane Warne up when he says something sexist to her (the infamous women-shouldn't-talk-about-farting-it's-unladylike-incident).
It's pretty clear the contestants want Laurina to shut her mouth. She's a loud, forthright woman who the viewers obviously want to see more of, hence the public repeatedly voting her in for challenges. She says funny things. She's not grumpy. She's not bitchy — if she doesn't like what you have said, she will tell you to your face. She tries challenges even when she is obviously scared. She's not perfect like the rest of the celebrities.
So, contestants, if Laurina does do what you want, if she does shut her mouth and acts like a good, little, quiet, non-fart-mentioning girl, one of you might have to actually go out, face your deepest fears and win some food.
How do you like them jungle apples?
If TV is your thing? Make sure you check out the latest episode of Mamamia's podcast for all things televisual: The Binge.