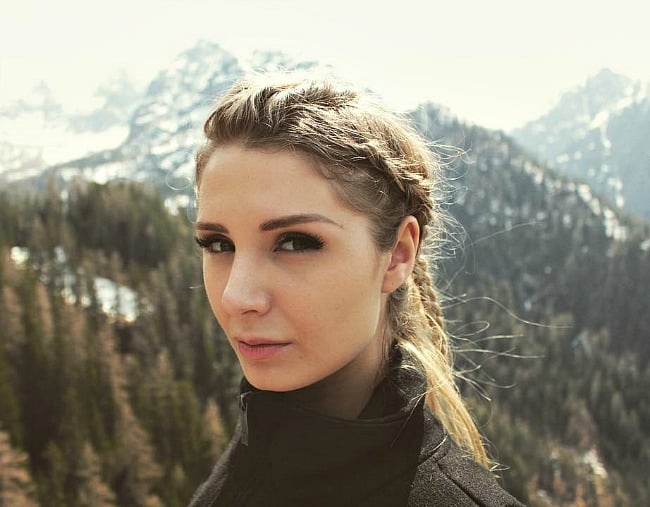 Last week, Lauren Southern's opponents rejoiced when the controversial Canadian was denied a tourist visa for Australia; "Sweet. May she continue to be denied entry to all nations," one critic tweeted.
But their joy was short-lived.
On Thursday the 23-year-old strode into the arrivals terminal at Brisbane airport, her new working visa approved ahead of her Australian tour. Emblazoned across her chest, was a single slogan: "It's okay to be white."
***
This kind of statement would come as little surprise to those familiar with the ultra-conservative social/political commentator's work.
A political science drop-out, Southern achieved notoriety and, yes, immense popularity via her contributions to The Rebel Media, a far right-wing Canadian political and social commentary website.
@Lauren_Southern touches down in Brisbane wearing 'It's okay to be white' T-shirt https://t.co/n1cBznxYiT @newscomauHQ pic.twitter.com/qIbu8BroqD

— Frank Chung (@franks_chung) July 13, 2018
In her regular video series for the platform – Stand Off with Lauren Southern – she rails against mass media, multiculturalism, political correctness, Islam, feminism, and more.
In one, she pretended to be a man in an effort to undermine and mock Canadian gender identification laws. In another she attended a Slutwalk protest bearing a sign that read: "There is no rape culture in the West". That particular clip has been viewed more than 2.3 million times.
So…
Why is Lauren Southern in Australia?
Southern is in Australia for a tour hosted by Axiomatic Media in which she will appear alongside commentator Stefan Molyneux in a series of talks in Sydney, Melbourne, Adelaide, Perth, Brisbane and Auckland later this month. Some top tier tickets, which include private dinner arrangements, have sold for $750 a pop.
The tour will also coincide with screenings of her new documentary, Farmlands, which delves into the plight of white farmers in South Africa.
"It's a pleasure to land here and see Australia upholding its commitment to free speech and Western culture," she said last week according to SBS, "something that may not be here for much longer if left-wing Australian politicians continue their pathological worship of multiculturalism."
.@Lauren_Southern says she feels 'zero shame' for being white.

MORE: https://t.co/ykweMevBOK #fridayshow pic.twitter.com/dX2SKW4Zld

— Sky News Australia (@SkyNewsAust) July 13, 2018
Pauline Hanson, for one, is welcoming Southern with open arms.
"Sorry to hear about your trouble getting a visa Lauren Southern," the One Nation senator tweeted. "If you are still in Oz when Parliament sits in August you have an open invitation to dinner. I'd be very interested to hear your thoughts on the situation in South Africa & on Islam.
"Good luck with your tour."
Why is Lauren Southern controversial?
While she posits herself as champion of free speech, Southern's statements routinely tread into hate speech territory.
Here are just a few examples of Southern's more, erm, controversial moments:
She was one of the driving forces behind 'The Triggering', a movement launched on March 9, 2016 (the day after International Women's Day), to "defend freedom of speech by posting 'offensive content' on social media";
In 2017, she was detained by the Italian Coast Guard for attempting to block NGO search-and-rescue boats from assisting shipwrecked migrants in the Mediterranean;
In 2018, she was banned from the UK for distributing leaflets that said "Allah is a Gay God" and "Allah is trans" outside a restaurant in Luton, a town in England's south east. She claimed the stunt was to demonstrate that "the rights of Muslims to be homophobic trump the rights of gay people to have their self expression".
She has routinely spouted her opposition to open displays of LGBTQI pride, such as parades/mardi gras: "If you're born that way it's not an achievement. Stop celebrating things that take no effort, that means you too gays. #HetereosexualPrideDay" (This, despite regularly celebrating her own race and sexuality. See t-shirt above.)
They just locked me out and said "au revoir"… Officially banned from UK for "racism".. doing fine though, all the cool people are being banned anyway ????

Need to gather my thoughts and call family. Interrogation story is pretty crazy though. Will tell it soon. pic.twitter.com/mARtkyZKFm

— Lauren Southern (@Lauren_Southern) March 12, 2018
For more in this vein you can read her 2016 book, 'Barbarians: How Baby Boomers, Immigrants, and Islam Screwed My Generation'.
Yep.