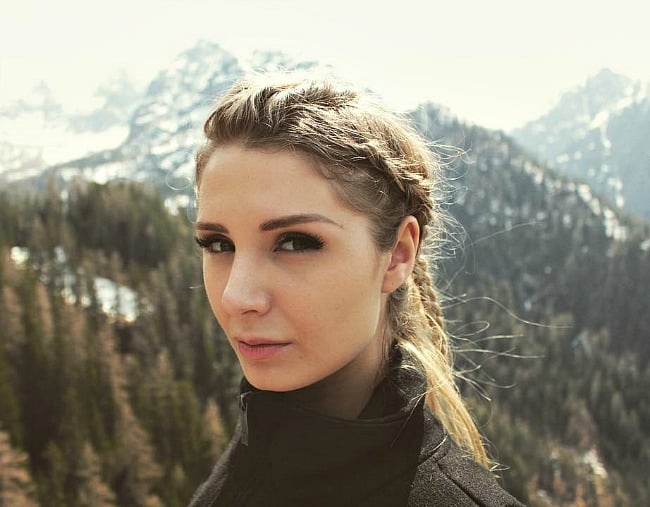 Last week, Lauren Southern's opponents rejoiced when the controversial Canadian was denied a tourist visa for Australia; "Sweet. May she continue to be denied entry to all nations," one critic tweeted.
But their joy was short-lived.
On Thursday the 23-year-old strode into the arrivals terminal at Brisbane airport, her new working visa approved ahead of her Australian tour. Emblazoned across her chest, was a single slogan: "It's okay to be white."
***
This kind of statement would come as little surprise to those familiar with the ultra-conservative social/political commentator's work.
A political science drop-out, Southern achieved notoriety and, yes, immense popularity via her contributions to The Rebel Media, a far right-wing Canadian political and social commentary website.
@Lauren_Southern touches down in Brisbane wearing 'It's okay to be white' T-shirt https://t.co/n1cBznxYiT @newscomauHQ pic.twitter.com/qIbu8BroqD

— Frank Chung (@franks_chung) July 13, 2018
In her regular video series for the platform – Stand Off with Lauren Southern – she rails against mass media, multiculturalism, political correctness, Islam, feminism, and more.
In one, she pretended to be a man in an effort to undermine and mock Canadian gender identification laws. In another she attended a Slutwalk protest bearing a sign that read: "There is no rape culture in the West". That particular clip has been viewed more than 2.3 million times.
So…
Why is Lauren Southern in Australia?
Southern is in Australia for a tour hosted by Axiomatic Media in which she will appear alongside commentator Stefan Molyneux in a series of talks in Sydney, Melbourne, Adelaide, Perth, Brisbane and Auckland later this month. Some top tier tickets, which include private dinner arrangements, have sold for $750 a pop.
The tour will also coincide with screenings of her new documentary, Farmlands, which delves into the plight of white farmers in South Africa.
"It's a pleasure to land here and see Australia upholding its commitment to free speech and Western culture," she said last week according to SBS, "something that may not be here for much longer if left-wing Australian politicians continue their pathological worship of multiculturalism."