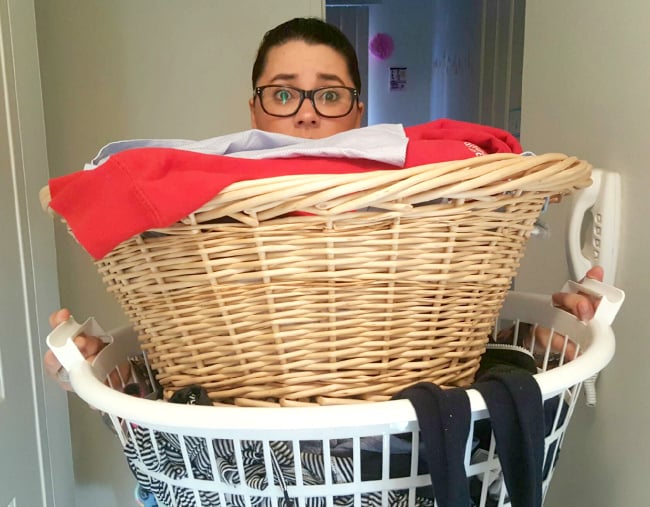 When I first started a family, I felt pretty in control of everything that I had to do to help keep the household running. I had a dishwasher, a nice little vacuum cleaner and a very hands-on hubby who quite honestly does more housework than I do (picked a winner!).
What I didn't prepare myself for was our little person growing up to need actual human-sized clothes. Clothes that took up real room in the cupboards as well as the washing machine. More clothes meant more loads of washing.
Yep, what the grown-up books (and my now very smug mother) didn't tell me, was that I would need to do things that, 10 years earlier, my mum did or me and my girlfriends all chipped in for someone else to do. The washing!
Help. Image: Giphy.
So I came up with a way to deal with the piles, the separate washes, the instructions on garments, and all that jazz. Yes, this little journey I like to call the "Seven Stages of Laundry". This is how it, uh, unfolds….
Stage 1: The mountain.
There it is. A mountain of fluffiness the size of Mt Fuji on the tiles. There's semi-wet towels on the floor. Loved-up clothes covered in play dirt and memories in the basket. The washing machine lid's open, loaded up to the brim with bibs and bobs. And then…THE SOCKS. Oh, the socks! So many colours, sizes, purposes, smells and honestly, are all of those undies are mine? How on earth have I not been going to work commando?
Stage 2: The voices.
Voice 1: Is this real? It can't be real. I DON'T BELIEVE THAT THIS IS REAL.
Voice 2: Turn around and go back to the 15th school shirt that you were ironing. The pile isn't as big as you think.
Voice 3: It's the book week parade tomorrow. You haven't made a costume yet.
SILENCE YOU PEASANTS! I haven't got time to do everything so I'll just leave this here and when I come back, I'm sure it will be as manageable as the static electricity in my silk top on a windy day.
Nope. Image: Giphy.
Stage 3: Dealing. Just. Dealing.
Remember that time when you were 21 and you were chatting to a nice young man in the club, and the bar called last drinks just as they turned the lights on and you couldn't bring yourself to make eye contact? Barely even dealing.
And there's the physical dealing-with-it too. Is this ever going to end? Perhaps I need to lie down. Wait, what is this wet thing on my cheek? A tear? A roof leak? Am I sooking? (Highly likely). The pain is real but look, awww, there's her first soccer photo, covered from head to tow in mud. That was a good day. The dirt was tough to get out but she loved pulling it back on the following week all clean. She thought it was magic. I thought it was a miracle that it came out!