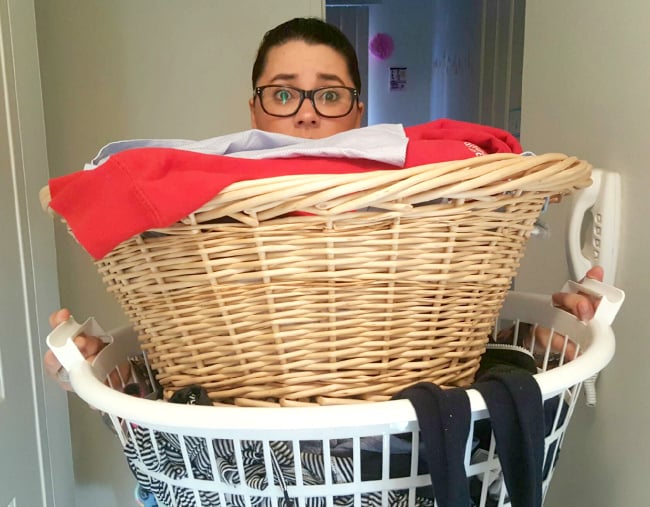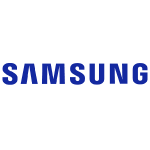 Thanks to our brand partner,
Samsung
When I first started a family, I felt pretty in control of everything that I had to do to help keep the household running. I had a dishwasher, a nice little vacuum cleaner and a very hands-on hubby who quite honestly does more housework than I do (picked a winner!).
What I didn't prepare myself for was our little person growing up to need actual human-sized clothes. Clothes that took up real room in the cupboards as well as the washing machine. More clothes meant more loads of washing.
Yep, what the grown-up books (and my now very smug mother) didn't tell me, was that I would need to do things that, 10 years earlier, my mum did or me and my girlfriends all chipped in for someone else to do. The washing!
Help. Image: Giphy.
So I came up with a way to deal with the piles, the separate washes, the instructions on garments, and all that jazz. Yes, this little journey I like to call the "Seven Stages of Laundry". This is how it, uh, unfolds….
Stage 1: The mountain.
There it is. A mountain of fluffiness the size of Mt Fuji on the tiles. There's semi-wet towels on the floor. Loved-up clothes covered in play dirt and memories in the basket. The washing machine lid's open, loaded up to the brim with bibs and bobs. And then…THE SOCKS. Oh, the socks! So many colours, sizes, purposes, smells and honestly, are all of those undies are mine? How on earth have I not been going to work commando?
Stage 2: The voices.
Voice 1: Is this real? It can't be real. I DON'T BELIEVE THAT THIS IS REAL.
Voice 2: Turn around and go back to the 15th school shirt that you were ironing. The pile isn't as big as you think.
Voice 3: It's the book week parade tomorrow. You haven't made a costume yet.
SILENCE YOU PEASANTS! I haven't got time to do everything so I'll just leave this here and when I come back, I'm sure it will be as manageable as the static electricity in my silk top on a windy day.
Nope. Image: Giphy.
Stage 3: Dealing. Just. Dealing.
Remember that time when you were 21 and you were chatting to a nice young man in the club, and the bar called last drinks just as they turned the lights on and you couldn't bring yourself to make eye contact? Barely even dealing.
And there's the physical dealing-with-it too. Is this ever going to end? Perhaps I need to lie down. Wait, what is this wet thing on my cheek? A tear? A roof leak? Am I sooking? (Highly likely). The pain is real but look, awww, there's her first soccer photo, covered from head to tow in mud. That was a good day. The dirt was tough to get out but she loved pulling it back on the following week all clean. She thought it was magic. I thought it was a miracle that it came out!
Stage 4: Angry Birds slingshot.
I feel like one of those little red birds in Angry Birds, all puffed up, ready to hurl myself from an over-sized slingshot. I thought they would be old enough to wash their own clothes by now! Yes, she's only six but I'm sure she can climb up onto the sink, reach for the laundry liquid on the windowsill and turn the machine on with her toes, similar to the time she scaled the bookshelf to reach the glass lolly jar on top of it – she's a pro! And my poor hubby, works nine hours a day, vacuums the carpets clean, does school pick-up…and leaves tissues in his pockets. Now the whole load is covered in snow without the joy of a European Christmas or a Game of Thrones battle in the North.

It hurts, we know. Image: Giphy.
Stage 5: A nanosecond of reflection.
Life can be tough, but there are people much worse off than me. They have really big families to wash for or have their in-laws living with them in the granny flat out back. I won't lie, I wish I could have left it for the hubby or planned a nice time out with my girlfriends. I'd love to be sipping margaritas while swaying sexily to the Beach Boys at sunset. But, may as well face it – it's still cold outside, my legs are dry and white and my dancing clothes are currently a pair of holey three-striped trackies and an old Robbie Williams hoodie. And my little family think I look great in it so onwards and upwards!
Stage 6: Near-acceptance. Near…ly…there.
Deep breath. Be grateful. You can do this. Once it's done, it will be done for the day. And think about how appreciative everyone will be when they wrap themselves in a fluffy towel and pull on their clean soccer uniforms. I'm sure they'll thank me when they see how much tissue fluff is in the garbage bin, realising I hand plucked every last piece from the inner weavings of their favourite knitted jumpers.

You've got this. Image: Giphy.
Stage 7: WINE.
JOY TO THE WORLD. The sun isn't quite out, but there is some wind around so it should all dry by the time I have to do it all again tomorrow.
Oh wait, it's hubby's turn.
Wine time!
Any stages we've left out? Share with us below!
This content was created with thanks to our brand partner Samsung.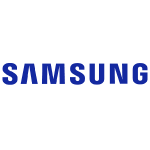 While we all have our frustration with household chores, Samsung Home Appliances are all about meaningful innovation in the home. That is, clever innovation designed to address pain points in the home and give you more time back to enjoy the important things in life.  From XL washing machines that make laundry day a breeze, to AddWashTM machines that allow you to add missed items during the cycle, to wi-fi models that you can control from your smart phone. Learn more about Samsung's innovations in the Laundry and explore their full range of Home Appliances.