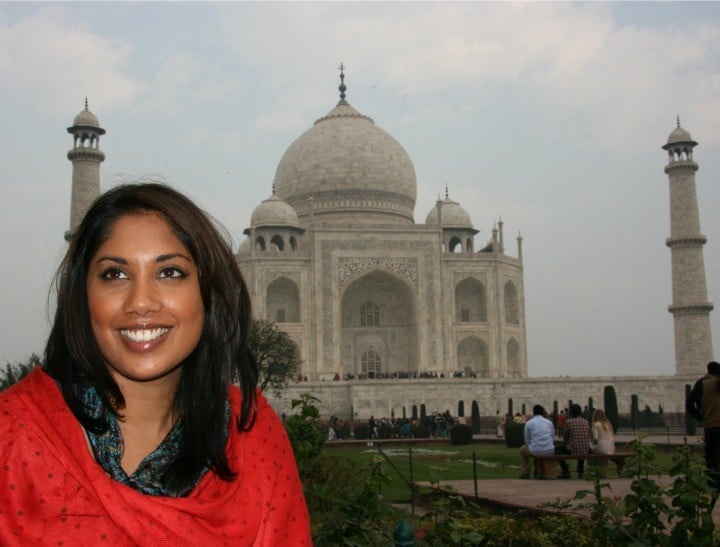 Walkey Award winning journalist and Fairfax Media's National Political Reporter, Latika Bourke shares her story about being adopted from India and growing up as an Australian kid.
She was adopted from India at the age of just eight months and grew up in Bathurst, New South Wales.
After hearing her name in the hit movie Slumdog Millionaire, Latika realised she knew nothing of her Indian roots and the world she was born into. Latika became more curious about her heritage and what it meant to be born in India and raised in Australia.
This led Latika on a deeply personal and sometimes confronting journey back to her birthplace to unravel the mysteries of her heritage.
Today, Latika has shared with Mamamia an extract from her new book From India with Love – a beautiful memoir of growing up, discovering your heritage and finding peace with who you are.
A Wanted Baby
My girlfriends would giggle whenever I showed up to school events with my mum, Penny. There we were, the darkest girl in the class with the whitest mother in the room. Of course everyone knew why. It was no secret and there was no malevolence behind the laughter. It was clear to anyone who met us as a family that I was adopted.
There were eight of us kids all up. Five were Mum and Dad's biological children, and three of us were adopted—all three of us from India, and two of us from the same orphanage in north-eastern India, but we weren't related. If we Bourkes stood out as a family I never thought it was because of our differing skin colours. No, rather it was the large number of us and the logistical effort involved in moving us anywhere as a group.
Related content: Mia chats with Walkey-Award winning journalist Latika Bourke. 
In fact, my origins made so little difference to me that in my mind I always saw myself as white. If I look in the mirror I see, of course, dark brown eyes, black hair (that lightened as I grew older and not coincidentally after appointments at the hairdressers) and mocha- coloured skin (I once spent a whole day in the full sun with no sunscreen at a school swimming carnival to see if I'd burn like my friends, but only earned a flaky nose for my efforts). There were superficial differences, but I knew that inside I felt no different from anyone else.
So it was all the more galling when strangers said to me over the years, 'Where are you from?' Four words, with so many layers of meaning packed into them that left me mystified. Were they trying to say, You look different to the rest of us. You obviously aren't one of us. Who were they to ask, at any rate?
I hated that question so much, and so did Mum. Loathed it. Despised it.