The Morning Show is no stranger to exciting guests, but few have a story as interesting as Damcho Dyson.
The 45 year old has been an artist, a buddhist nun and is now a latex lover involved on the fetish scene.
Appearing on the show this morning, her burgundy latex body suit complete with bow tie surprised hosts Larry Emdur and Kylie Gillies.
"You need that for the Logies, you need that for next year!" Emdur joked to Gillies.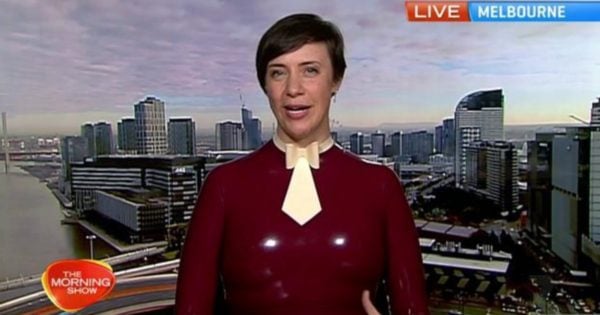 Born Michelle Dyson in Australia, Damcho said the desire to become a nun came during a "time of great challenge" in her 20s.
Attending the Victorian College of the Arts and exhibiting her work as a successful artist, she then fell pregnant.
"Twenty-four hours after conception I had a very strong connection with this baby. but the father freaked out and gave me an ultimatum of 'it's the child or me', so I reluctantly had an abortion," she told Whimn.com.au.
"After six years of intense study of Tibetan buddhism inspiring my art, it seemed quite natural to give up art practise and devote myself to becoming a nun. S that meant being celibate, giving up art practise, I shaved my head, put on robes, changed my name and moved to France," she said on The Morning Show.