TRIGGER WARNING: The following story may contain information that is distressing to some readers.
It was the scene that captured an unflinching look at a young woman forced to endure the most violent of acts.
Last Tango in Paris director Bernardo Bertolucci has admitted he filmed the rape scene that used a stick of butter as lubricant without the consent of then 19-year-old actress Maria Schneider.
The confession comes in a recently resurfaced interview from 2013.
Bertolucci was said to have planned the scene with then 48-year-old Marlon Brando, who knowingly played the attacker in the film, over breakfast.
"We were having, with Marlon [Brando], breakfast on the floor of the flat where I was shooting," he said.
"There was a baguette, there was butter and we looked at each other and, without saying anything, we knew what we wanted."
The Italian Oscar-nominated director went on to share they concealed the true nature of the scene from Schneider so Bertolucci could capture her reaction "as a girl, not an actress."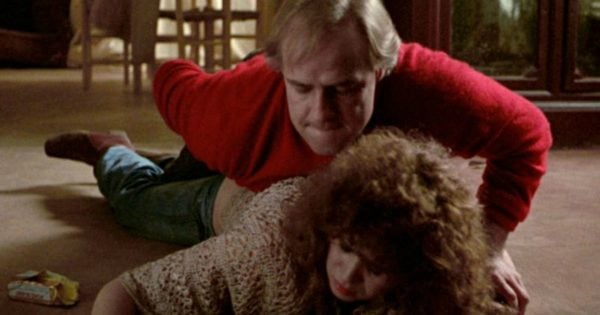 Schneider told the Daily Mail in 2007, she learned of the scene just before she was due to perform it.
"They only told me about it before we had to film the scene and I was so angry," she said.
"I should have called my agent or had my lawyer come to the set because you can't force someone to do something that isn't in the script, but at the time, I didn't know that."
The actress said Marlon had comforted her during filming but retracted this sympathy once it ended.
"Marlon said to me: 'Maria, don't worry, it's just a movie,' but during the scene, even though what Marlon was doing wasn't real, I was crying real tears," she said.
"I felt humiliated and to be honest, I felt a little raped, both by Marlon and by Bertolucci. After the scene, Marlon didn't console me or apologise. Thankfully, there was just one take."
Anna Kendrick and Chris Evans have slammed the directorial choice on social media following the resurfaced footage.
"Wow. I will never look at this film, Bertolucci or Brando the same way again. This is beyond disgusting. I feel rage," Evans wrote on Twitter.
Kendrick also hit out with a reminder that Schneider had said the scene was non-consensual almost ten years ago.
"Ms Schneider stated this several years ago. I used to get eye-rolls when I brought it up to people (aka dudes)," she wrote.
Schneider passed away from cancer in 2011, at age 58.
Brando who also passed away but in 2004, at age 80, was nominated for an Oscar for his performance in the 1972 film.