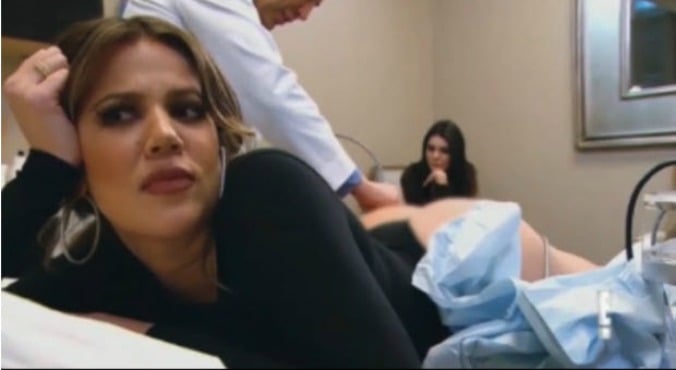 Image: Keeping Up With The Kardashians/E!
Stretch marks. Cellulite. Many women possess them – some love them, some don't.
But would you be game to show your bum stretch marks on TV? Khloe Kardashian did. (Surprise!)
In a clip for an upcoming episode of Keeping Up With The Kardashians – where the truth about Kylie Jenner's lips is also revealed – Khloe takes her sisters Kim and Kendall on a fun, sisterly bonding outing – to get the stretch marks and cellulite on her bum lasered.
Related: Why do I have stretch marks and what can I do about them?
The real question on our minds? Is laser a valid treatment for reducing the appearance of stretch marks, and does it actually work? (Post continues after video.)
According to cosmetic surgeon at Cosmos Clinic, Dr Joseph Ajaka, two treatment options – evasive and non-evasive.
RELATED: Why do I have stretch marks and what can I do about them?
"The non-evasive treatment involves the insertion of platelet-rich plasma (PRP) which is what Kim Kardashian did when she had the 'vampire facial'. It involves taking blood, processing it and injecting your own plasma back into the skin to help grow collagen and improve the quality of the skin," he explains.
"The evasive treatment uses lasers. It works by numbing the area and using the laser to heat underneath the skin to encourage new collagen fibres to form and thicken the skin," he says.
Related: People are judging your intelligence on this one personal attribute.
"Laser is also effective at removing cellulite in a similar way, melting the fat pockets under the skin."