A family from New South Wales have told of the scariest night of their lives after they were caught up in a mass shooting which left at least 58 people dead and more than 500 injured.
The preliminary death toll makes the attack the deadliest mass shooting in US history, after a gunman opened fire on a crowd of 22,000 people at the Route 91 country music festival on Sunday night, local time.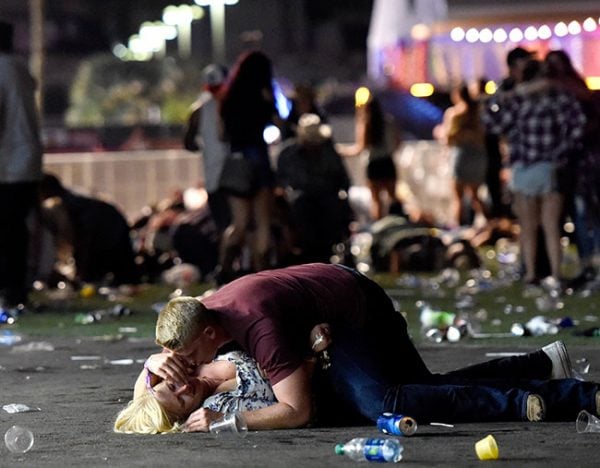 It's believed the man - a 64-year-old Nevada local who has since died - opened fire from the 32nd floor of the Mandalay Bay casino complex, adjacent to the open-air music festival.
Kevin Comerford, Nicole Shipman and her daughter Maddy Aspinall, 14, from Grafton in NSW, were visiting Las Vegas for one night only when the shooting occurred.
Las Vegas shooting: 50 people have been killed and over 200 injured after a gunman opened fire from a hotel window. #LasVegas #7News pic.twitter.com/G4Rck43nFM

— 7 News Sydney (@7NewsSydney) October 2, 2017
After visiting the Grand Canyon, the family were headed out to see the city from their hotel, about two blocks from the scene of the shooting, when they saw a "rush of people" running down the street.
"This was supposed to be a one night special stop because we'd never been to Las Vegas before, " Mr Comerford told AAP.
"We were planning to live it up for one night and we've had probably the scariest night of our life."
He said 14-year-old Maddy had "coped well" with the horrific ordeal until they were forced to "walk through the empty casino with our hands above our head" by police.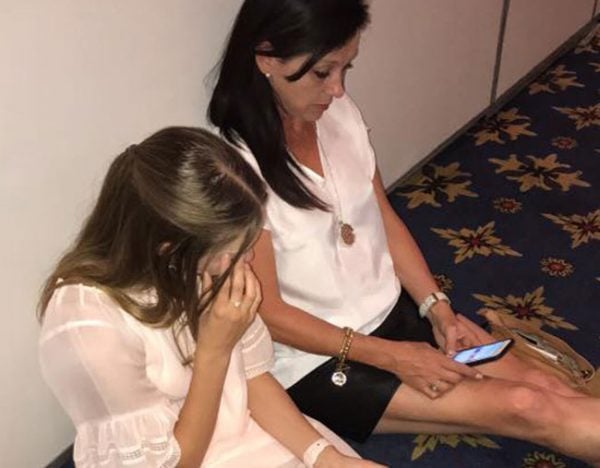 "It became very, very real for her then," he said.
"That's when she got very upset. She's been a brave girl."
"We are in for a long night but we are safe," Kevin wrote on Facebook.
Australia's Consulate General in LA is making urgent inquiries with local authorities to determine if any Australians have been injured or killed.
"If you have any concerns for the welfare of family and friends in the Las Vegas area, you should attempt to contact them directly," a Department of Foreign Affairs and Trade spokeswoman told AAP.
Another Australian, Gold Coast resident Brian Hodge, told News Corp he was staying in the room next to where the gunman opened fire.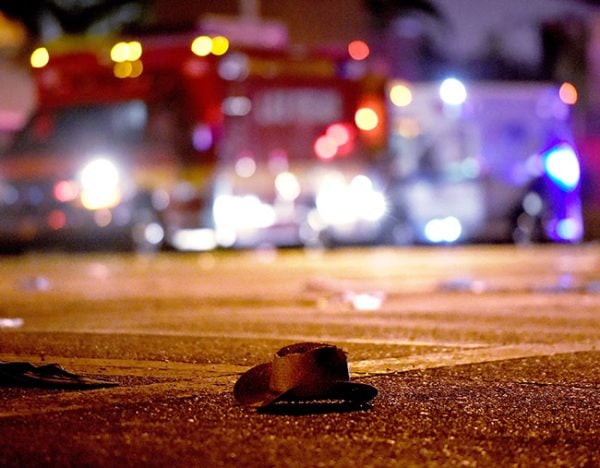 Hodge said he was staying in room 32134, with the gunman firing on the crowd from room 32135.
"It was a machine gun from the room next to me," he told News Corp Australia.
"My floor is a crime scene. They killed a security guard on my floor."
He said he fled the hotel during the chaos and hid in the bushes for "several hours" waiting for police.
'Hardcore': Las Vegas shooter 'in hotel room next door', says Australian man Brian Hodgehttps://t.co/gs8QnkTz7i

— Brisbane Times (@brisbanetimes) October 2, 2017
Video taken of the attack showed panicked crowds fleeing as sustained rapid gunfire ripped through the area.
"I heard what we thought was firecrackers, and we looked to the right of us and there was a woman down covered in blood," a witness identified as Emily told local Fox affiliate KLAS.
"From that point on we just ran. We hid wherever we could...We had no idea, it was just rapid fire. We all thought we were dead.
"It was awful. It just kept going, and going and going. It felt like an eternity but it went for at least several minutes."
One father, 53-year-old Mike McGarry from Philadelphia, was at the concert and rushed to shield his children from the gunfire.
"It was crazy - I laid on top of the kids. They're 20. I'm 53. I lived a good life," he said.
People unable to make contact with loved ones should phone the DFAT emergency hotline: 1300 555 135, or +61 2 6261 3305.
With AAP.