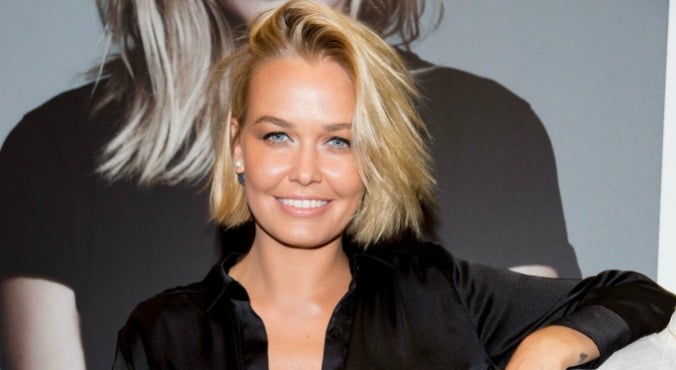 Image: Getty.
She's become a mother. Got married in private last year. Launched her beauty brand The Base by Lara Bingle. And has recently been announced as a Westfield Style Ambassador. Yeah, Lara Worthington doesn't seem to be showing signs of slowing down any time soon.
Speaking with Paula Joye yesterday to launch the Westfield Beauty Festival, Lara spoke candidly about her love of being a mother to baby boy Rocket. The hardest part of motherhood so far? The whole lack of sleep thing.
"I feel like I'm jet-lagged 24/7. It's those first two weeks, I guess, that was the biggest shock for me. You can survive on two hours sleep. Usually I was a massive sleeper, 12 hours, I love to sleep. Then Rocket came along and I was in shock."
Worthington is regularly travelling around the world, but a lot's changed now she's got a baby on the scene.
"There's a lot more stuff. There's the car seats and, just so much stuff," she explained.
"I had no idea, I lived in a little bubble before, to be honest and now, those mothers who have a full time job… I'm in awe of people who can balance the work and the life. It's full on." (Post continues after gallery.)
Lara Worthington on Instagram
Speaking to KISS FM's Kyle and Jackie O earlier this week, Worthington said that motherhood can be tough at times.
"You don't get much freedom…I can't just go out, especially when he is feeding," she said.
Joye quizzed Lara about why she's often seen in workout gear these days. Her response? It's one we utter, well, most weekends.
"That's when I just can't be bothered to get dressed," she explained.
"I have the same 10 pairs of pants and the same jumper… I just keep the same workout outfit so they can't get 10 photos, you know."
Lara Worthington: 1. Paparazzi: 0.
Since giving birth to Rocket in March, Worthington has adopted a less public profile – yes, that means less selfies and near to zero photos of her son.
"It's too much these days. There's no mystery. I'd never put my son out there. It's not necessary… Both Sam and I understand it is by-product of our profession, but taking photos of my son without my consent is unacceptable," she told the Kyle and Jackie O Show.
Do you agree with Lara's stance on photos of her son?