When I first watched the latest Australia Day Lamb ad, I was overwhelmed by a sense of discomfort.
Created by advertising agency 'The Monkeys' for Meat and Livestock Australia, the two minute thirty second ad is unequivocally the most political in the campaign's history.
It begins with a beach-side barbecue attended by Indigenous Australians. "First here…" one man says. "Beautiful spot like this? It'll be packed before you know it," replies the other.
And so it begins.
The Europeans triumphantly arrive, the French waving and offering cheese, and the British introducing themselves as the "First Fleet" before being corrected "…not quite."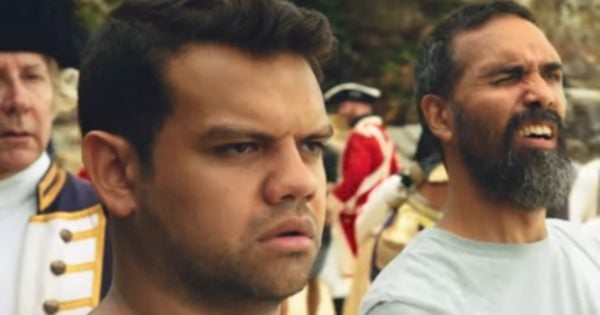 Then there are the Germans, the Chinese, Italians, Greeks and Serbians.
The music starts "What is love..." and it's just a true blue Aussie barbecue. There's Adam Gilchrist, Cathy Freeman, the 'float people' and the 'boat people'. Malaysian-born Australian artist, author and chef Poh Ling Yeow's observation "Aren't we all boat people?" is undoubtedly the highlight.
As the camera pans across the diverse face of Australia the song continues "Baby don't hurt me...don't hurt me, no more."
I'm not sure if it was intended to be ironic, but it strikes me as sickeningly so.
As I eagerly watched the response, I was surprised that it was met with almost universal acclaim. People loved it.
Mia Freedman, Monique Bowley and I discuss the 2017 lamb ad on this week's episode of Mamamia Out Loud. Post continues below.