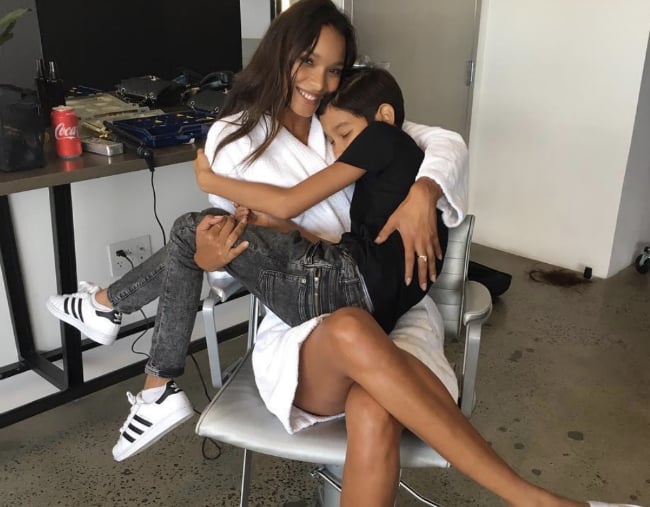 Victoria's Secret model Lais Ribeiro has shared a sweet tribute to her son, who was diagnosed with autism at the age of five.
Ribeiro posted a photo to her Instagram on Sunday of her getting a tattoo to honour her son, Alexandre, explaining in the caption the meaning behind her new ink.
The Brazilian model already has he son's name tattooed on the back of her neck, but decided to get this new one after she attended a meeting about autism with kids who had special needs.
"I decided to do the symbol of autism (and kids with special needs) as a tattoo" the model explained. She added that the result is "beautiful and perfect just the way I wanted [it] to be".
"I'm so happy about it❤️ it means A LOT to me!" she said, before posting a picture of the tattoo.
The tattoo, which is placed on her side, is a ribbon filled-in with a colourful puzzle-like pattern.
Posting to her Instagram Story, the 27-year-old mum explained to her followers that the design symbolises "the complexity of the autism spectrum".
Earlier this year in May, Ribeiro wrote a sweet message on her Instagram to Alexandre on his 10th birthday, saying "10 years old today. They grow up so fast!"
"Happy birthday to the most happy, sensitive and pure spirit person that I know (and it's not just because he's my son.) You always bring light to whatever situation you are in."
Thank you - just by clicking on this and other content on Mamamia, you are helping to fund education for some of the world's most disadvantaged girls.
Together with our commercial clients and charity partner Room to Read, Mamamia's goal is to be funding 1,000 girls in school each and every day, by June 2020.
Learn more here about our ongoing mission to make the world a better place for women and girls.