In case you missed it, the internet is not happy about the announcement that Doritos are reportedly going to bring out 'Lady Doritos'.
In an interview with Freakonomics, PepsiCo CEO Indra Nooyi talked about how 'gender differences' are driving product development.
"[Women] don't like to crunch too loudly in public. And they don't lick their fingers generously and they don't like to pour the little broken pieces and the flavor into their mouth," she said.
Crunching? HOW UNCOUTH.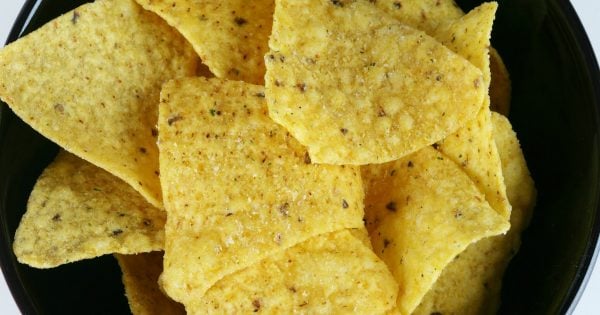 As a result, he said, Doritos were researching a chip that would be "low-crunch" with the same "taste profile" and - get this - "purse size."
"Because women love to carry a snack in their purse," she said.
Naturally, Twitter had a field day. Here are some of the best.
Lady Doritos only have 77 percent the crunch of regular Doritos.

— Ben Shapiro (@benshapiro) February 6, 2018
Lady Doritos isn't a bad idea. Sometimes I eat chips so loudly I start my period and it's distracting to the office :/

— "Sarah Schauer" (@SJSchauer) February 6, 2018
Now with the "Lady Doritos" I can eat all the chips I want while hiding in the closet to murder a man.

— Janelle James (@janellejcomic) February 6, 2018
Lady Doritos? Oh my, let me put my parasol down and remove my white gloves. This corset is too tight. I feel faint. I shall now take to my bed.

— Sondra Dee (@SondraDeeMe) February 5, 2018
women: give us equal pay, stop harassing us, stop literally threatening our lives
brands: how about quiet doritos for women?
women: no, that's--
brands: snacks you can fit into your purse!
women: what? no--
brands: a pen that's comfy for your lady hands!

— Sammy Nickalls ????‍♀️ (@sammynickalls) February 5, 2018
GYM INSTRUCTOR: I didn't hear you doing your crunches today

ME [eating Lady Doritos] get used to it, Darren

— Jon (@ArfMeasures) February 5, 2018
To be honest when I saw "Lady Doritos" trending I was really hoping that it was just Kylie naming her baby. #LadyDoritos

— Ali Kolbert (@AliKolbert) February 5, 2018
Reached in my lady pocket for my lady Doritos and all I can think is "I'm glad I used a lady razor so I don't have any lady beard on my lady snacks."

— CJ (@BrassBallsCJ) February 6, 2018
Now when I open feminine hygiene products in the bathroom stall, everyone will know it is, in fact, a pad and not a bag of Doritos. NOW EVERYONE WILL KNOW I AM A WOMAN! #LadyDoritos

— Nia-Shea (@NiaShea86) February 5, 2018
I don't need quieter chips, I need a chip bag that my kid can't hear me open from 2 floors away, as I hide in my closet. #LadyDoritos

— Momofthehour (@TheMomoftheHour) February 6, 2018
But before you angrily crunch your way through an original packet in protest, it looks like people may have got ahead of themselves.
We already have Doritos for women — they're called Doritos, and they're loved by millions.

— Doritos (@Doritos) February 6, 2018
Oh. Ok then.