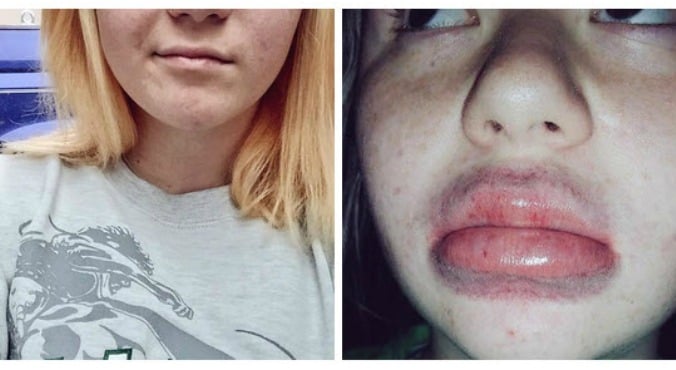 Image: Twitter.
UPDATE: Kylie Jenner has responded to the bizarre 'challenge' that erupted over the weekend in her name, which involved Instagram and Twitter users sucking on shot glasses and bottle caps in an effort to emulate her famously pillowy lips. Rather than being flattered by all this, it seems Kylie's just as perplexed as the rest of us.
"I'm not here to try & encourage people/young girls to look like me or to think this is the way they should look… I want to encourage people/young girls like me to be YOURSELF & not be afraid to experiment with your look," the 17-year-old tweeted.
By "experiment with your look", we assume Kylie is referring to playing around with makeup, rather than inflicting potentially long-term damage on one's lips through DIY, internet-approved enhancement techniques. Kardashian fans, take heed.
Yesterday The Glow reported:
What did you do over the weekend? Did you go out for brunch, take your dog for a walk and indulge in a nap or two? Or did you grab the nearest shot glass, stick your lips in it and start sucking?
It sounds bizarre (primarily because it is bizarre), but there are a lot of people out there who decided the second option was the way to go. As you've probably guessed, these antics have been spurred on by a hashtag — #KylieJennerChallenge — and there are disastrous 'after' shots all over Twitter and Instagram right now.
RELATED: "Why I will never try lip injections ever again".
Many of us are content to just look at Kylie's pout and perhaps wonder how she achieved it, but there are a lot of young women (and some men) out there who have decided to take matters into their own hands and replicate her look. While some have purchased specially-designed lip plumping devices online, others have gone a little more DIY with shot glasses, bottle lids, cups — basically any household item that can create suction around the lips and increases blood flow, thus making them temporarily swell up. (Post continues after gallery.)
The Kylie Jenner Challenge
In terms of effectiveness, okay, yes — this technique will probably make your lips look fuller. But there's also a very good chance they'll inflate to comical proportions and bruise spectacularly, as many of the #KylieJennerChallenge followers have learned the hard way. The photos speak for themselves.
RELATED: Seriously, don't try DIY lip-enhancing treatments. Just don't.
Now, let's be honest here: Kylie Jenner's increasingly pillowy lips have intrigued us all for a while now. The ongoing 'injectibles or overdrawn liner?' debate shows no sign of abating, and the youngest Kardashian is happily fanning the flames of speculation with her vague comments on the matter and endless stream of kissy-faced selfies.