1. Shhhhhh everybody. Kylie Jenner's boobs are trying to tell us something.
Do you hear that? That… squishy sound?
Yeah, that's Kylie Jenner's boobs. Well… according to some tabloids it is, anyway.
You see, the Daily Mail argues the youngest Jenner sister is sending us ~cryptic messages~ with her tatas, which they expertly observed appear to be "noticeably fuller chested" in her Instagram selfies.
Ah, right then.
This is tres important you see, because Kylie's boobs are like a horoscope, and that horoscope points to one destination: pregnancy.
"[Kylie's] changing figure is just another sign that the pregnancy reports are to be believed," Daily Mail reported.
Mmmm. Both insightful AND kinda creepy.
2. If you've ever wondered 'Has Sophie Monk had Botox?' here's your answer.
It's the question that has (… apparently) been keeping people awake at night: Did Sophie Monk, or did she not, get Botox before this season of The Bachelorette?
In an interview with BW Magazine, Monk responded to the rumours, with "God, no."
"That could backfire! I'm lucky if I even put moisturiser of my face," the 37-year-old said.
Monk has spoken publicly in the past about regretting the filler she had injected in her top lip in 2011. She made the decision after she had a cyst removed, and a doctor suggested some filler would balance her lips out.
Phew. Feel free to resume your normal lives at the earliest opportunity.
3. Kate Middleton's millionaire uncle has been arrested.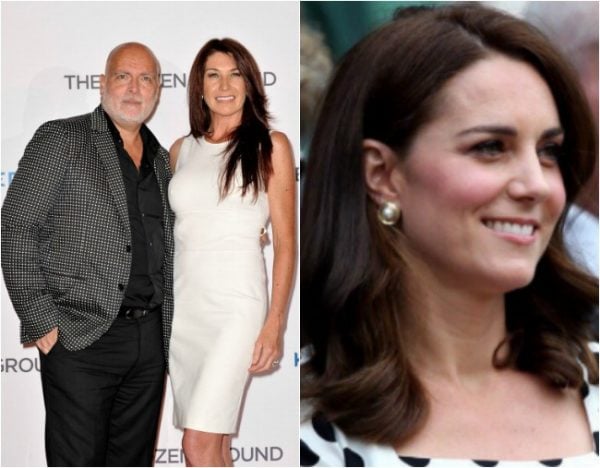 The Duchess of Cambridge's uncle, 52-year-old Gary Goldsmith, is believed to have been arrested on suspicion of assaulting his wife in public.
According to The Telegraph, Mr Goldsmith got into an argument with his wife Julie-Ann in the early hours of Friday morning.
The couple had attended a charity auction at Home House, a private members' club in central London. The Sun reports the couple had begun fighting after she accused him of doing cocaine. The 47-year-old was taken to hospital but has since been discharged.
UK Police told The Telegraph on Friday Mr Goldsmith has been charged with assault by beating.
Mr Goldsmith, who is the younger brother of the Duchess' mother, married his wife in 2012. It is his fourth marriage.
Listen: Love The Bachelorette? You need to be listening to Bach Chat:
4. People think The Bachelor's Sam and Snez secretly married for the most ridiculous reason.
 Oh goodness.
Did... did Bachelor couple Sam Wood and Snezana Markoski get married without even so much as telling us?
Sam proposed to Snez in December 2015, and just last weekend they welcomed their baby girl into the world, Willow Wendy Wood.
But this week in an interview with KIIS FM's Hughesy and Kate, the fitness trainer retold the story of Snezana's labour, detailing, "And Snez is like 'I want McDonalds!'... If your wife is in labour and she wants a cheeseburger then you get her a cheeseburger."
EXCUSE US HE USED THE WORD WIFE.
Was it a... slip up? Or did Sam really just admit that they secretly married?
It was almost definitely just a slip up. But still, intriguing.
5. Hugh Jackman and Deborra-Lee Furness prove they're Australia's bloody best couple for the 1045838 time.
Hugh Jackman and Deborra-Lee Furness have thrown their vocal support behind the legalisation of same sex marriage in Australia.
Jackman, 49, and Furness his wife, 61, filmed a short video that was shared on social media by The Equality Campaign.
"Deb and I are proud to say we are Australian and we want to be proud of the choices our country makes for its citizens," Jackman said. "We want Australia to be a country moving forward."
"Every person on this planet has the right to be authentic, and to enjoy equal rights," Furness said.
"No one has the right to tell someone that they can't be who they are and do as they wish to do if it hurts absolutely no one and is done out of love."
They finished by compelling all Australians to "Please support marriage equality."
Bloody beautiful.