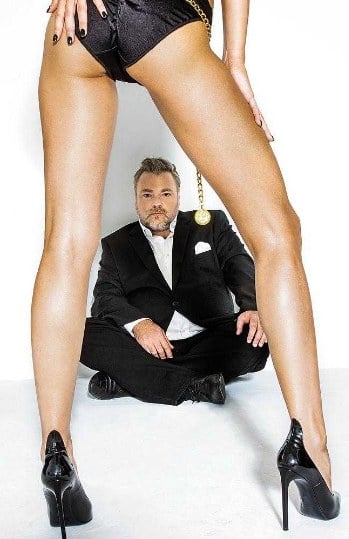 Kyle Sandlilands has a girlfriend. A girlfriend who is really, really, really hot, you guys.
And just in case you didn't know that Kyle Sandilands has a girlfriend who is really, really, really hot, she has posed for Maxim in her underwear, holding a giant knife and fork (cos it's the 'food issue' duh):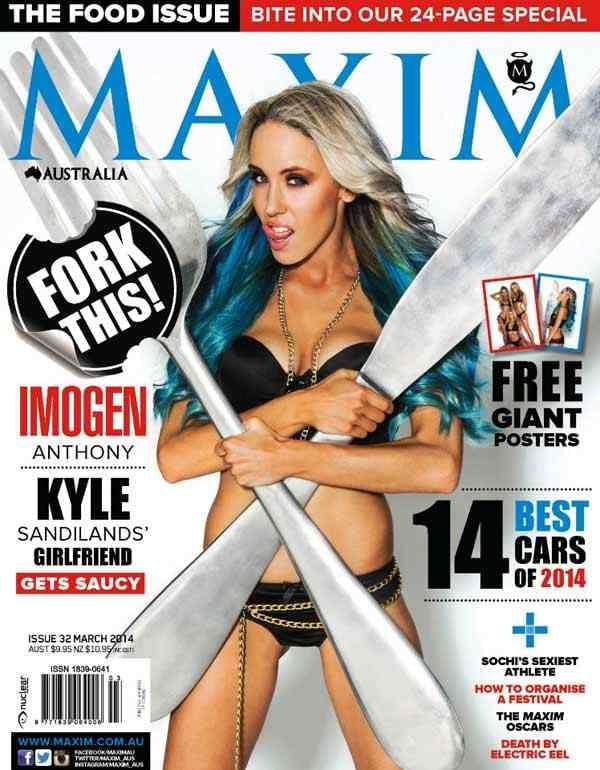 Introducing Imogen Anthony, who, according to Maxim, recently got 'saucy'. And also 'forked' something.
Until bursting onto the scene today with this subtle magazine cover, Imogen has been somewhat of an enigma at Kyle Sandilands' side. At 22-years-old, she is 20 years his junior and the first serious relationship Kyle has had since his marriage breakdown to that girl who tried to be a singer once ("Oo ah, I lost my bra, I left in my boyfriend's car etc etc etc").
So, since this magazine cover gives away nothing and is just more of a gold-chained riddle wrapped in a leg-spread mystery… And since we all definitely want to know more about the epic love story that is the relationship between Imogen Anthony and Kyle Sandilands… I thought I'd try to decipher a few bits and pieces from the Maxim article. (Don't all call me at once, Walkley judges.)
1. This quote:
"I knew it was real when he told me he loved me two weeks into our relationship."
Yep. That's always a very good sign.
2. This photo: