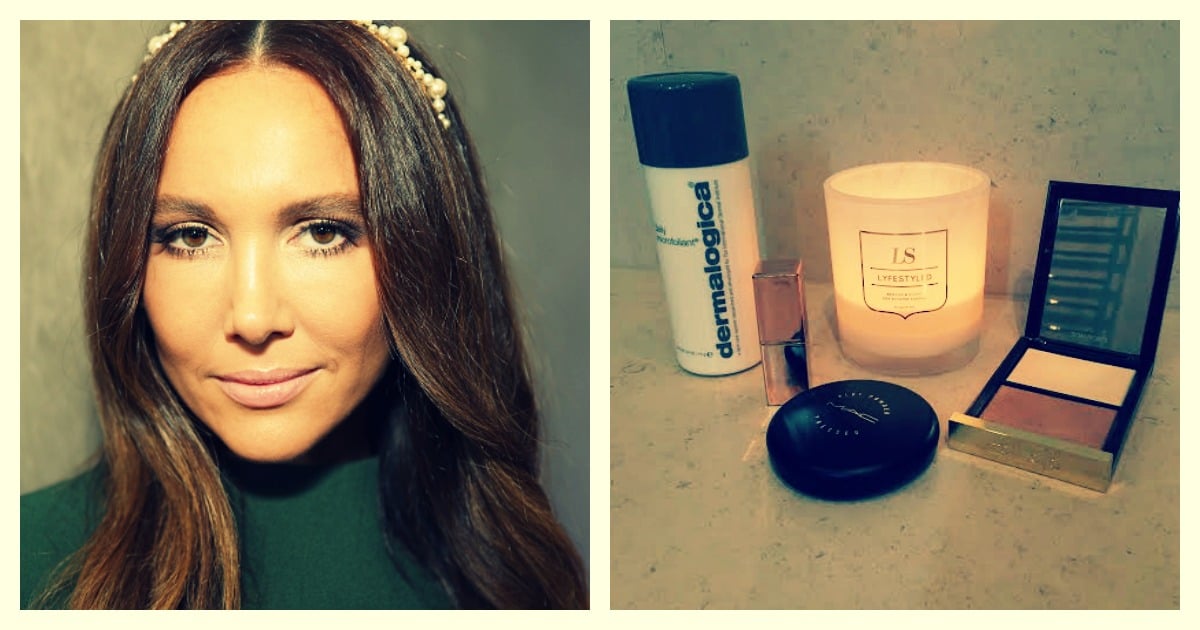 Kyly Clarke is particular when it comes to what she puts on her face every day.
The 34-year-old creator of Lyfestyled, new author (this week she launched her book True To You, $24.95, about the mantras that help her get through the day) and mother of Kelsey Lee comes from a beauty therapy background, so she knows what's good. And with the cheapest of her beauty buys starting at $2.50, we're listening.
The Morning Routine
"First thing is checking on my daughter — seeing her puts the biggest smile on my face. Depending on what kind of night I've had, I love to start my day with a Nespresso vanilla latte that I make at home, otherwise a nice English breakfast tea."
Prepping the skin
"In terms of cleansing my face, it's a case of a clean water wash. I believe less is sometimes more when it comes to beauty regimens.
"My general daily moisturiser is Olay's 7 Total Effects ($32.95) for normal skin. I find this to be not too oily and the perfect base for any powder foundation, like the one I use. I then apply my L'Oreal Lumi Magique BB Cream ($24.95) which has a beautiful consistency, glow, and the perfect tone to add a clean, bronzed-like canvas to my face. This is before I begin my makeup routine."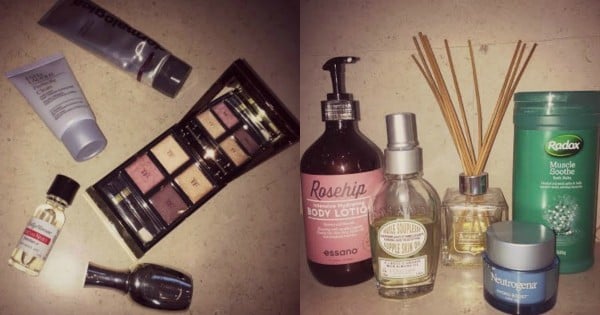 Kyly's collection of products. (Image: supplied)
Makeup time
"I start with a MAC concealer; I prefer it to be slightly lighter in colour so I use Sheercover medium tone concealer. They have two-tone palettes that allow you to mix and blend if you need more of a lighter or darker tone for a particular day.
"I then set it with a MAC blot powder in a medium/dark colour ($36). My foundation of choice is Sheer Cover Almond Mineral Makeup. I stocked up so I have so many for years to come. When you find something you like I think it's smart to stick with it. I don't like anything heavy as I like my skin to breathe daily.
"Contouring is so important and gives your face light and shade. I don't use blush that much anymore, but rather contour under the cheek bone with ModelCo's matte bronzing powder ($24). This is also perfect to use just above the temple area near the hairline to accentuate shading and contrast.
"I love the tone of MAC's Brown Down eyeshadow ($26). It works super well with brown eyes. To finish, it's all about a mascara that doesn't give you panda eyes. I enjoy using ModelCo's Fat Lash ($22)."
Hair care
"I wash my hair every three days. It's best to let your hair absorb its natural oils, and seeing as my hair is more on the dry side I can do this easily.
"I love the Eleven Miracle Hair Treatment, ($24.95) and my go-to hairspray is Charles Worthington Style Setter ($15.95). My favourite treatment at the moment to leave in during the day is Brocato Cloud 9.
"Michael [Clarke, Kyly's husband] and I don't share products but if anything, we use the same shampoo and conditioner. Kevin Murphy have some great products."
Need a one minute hair masterclass? Don't worry. We've got you covered. (Post continues after video.)
Perfume
"If you smell good, you feel good. I usually choose different scents depending on where I'm going, what I am doing or the time of day.
"Training, I love to wear Estée Lauder Modern Muse ($90). All day at work I enjoy smelling Bvlgari Omnia Amethyste ($65). Heading out, it's Christian Dior Poison ($60) or Alien By Thierry ($120)."
Handbag essentials
"Carmex and Nivea lip gloss. My MAC concealer and my MAC blot powder. If I'm going from my office to a meeting and it's later in the afternoon, then I sure do touch up my makeup. I think it is always nice to be presentable."
Night routine
"I definitely have to wash off my makeup — I don't like having it on all day and I feel like taking it off also gives me a sense of freedom. It makes me feel like I'm home, relaxed and chilled. It's best not to constantly have makeup on your skin and I like to wipe it off and put on a hydrating moisturiser like Estee Lauder's Hydrationist ($75) for maximum moisture.
"I love Aldi's no fragrance baby wipes; I use them for my face and they don't irritate my eyes. They will cost you around $2.50! Bargain."
Check out more from Kyly Clarke from her Instagram, @kylyclarke. (Post continues after gallery.)
Facials
"I think doing my own facials is the best because I know my face well, and have also done a DIY facial at home — I come from a beauty therapist background. They are cheaper and it's easy to leave on a facial mask when walking around the house at home on a Sunday. I couldn't feel more relaxed than on those Sundays.
"My picks are:
Cleanser: Clinique Foaming Sonic Facial Soap ($29).
Scrub: Dermalogica Daily Clean Scrub ($37).
Mask: Aspect Extreme C20.
Moisturiser 1: On a drier skin day I use Estée Lauder Advanced Night Repair ($140).
Moisturiser 2: On a normal day I use Olay or Neutrogena Hydroboost in the office."
Are you a fan of Aldi's baby wipes too?