I grew up hearing that the women in my family were 'cursed.' Breast and ovarian cancer has affected my family for generations.
My great-grandmother died at 68, my Nan Val was diagnosed at 44 with breast cancer and my mum Julie was diagnosed at just 36… and that was just my family. Across my extended family it was even worse. Women were dying often in their 30s and 40s.
I can remember the moment my mum and nan told me we finally had an answer. We carried a gene mutation. We were one of the first families to be tested in Australia. But that also meant minimal information and no support. After years of burying my head in the sand, I decided to be tested after having my first baby at 22.
I knew even though this was scary, it was better than the alternative… cancer. I came back positive. Positive for the BRCA gene. I felt this weird combination of gratefulness and panic.
After three anxious years, weighing my option and coming to terms of my mutation-status, at the age of 25, I decided to undergo a preventative mastectomy after it was discovered I already had precancerous cells. I knew my risk was real, latest estimates put women who carry the BRCA gene at a 72 per cent risk for breast cancer and up to 65 per cent for ovarian cancer. It wasn't just in my mind… Science even backed me on it.
Recovering from the surgery, I laid in my hospital bed feeling very sorry for myself. Here I was a 25-year-old young mum with no breasts and looking at my own mum and I said… no way! I am one of the lucky ones… I didn't have cancer.
That was my light switch moment, my mum handed me my laptop and I created Pink Hope, Australia's only preventative breast and ovarian health organisation – because I didn't want another woman or family to feel like I did with no place to go for unique information, support and advocacy.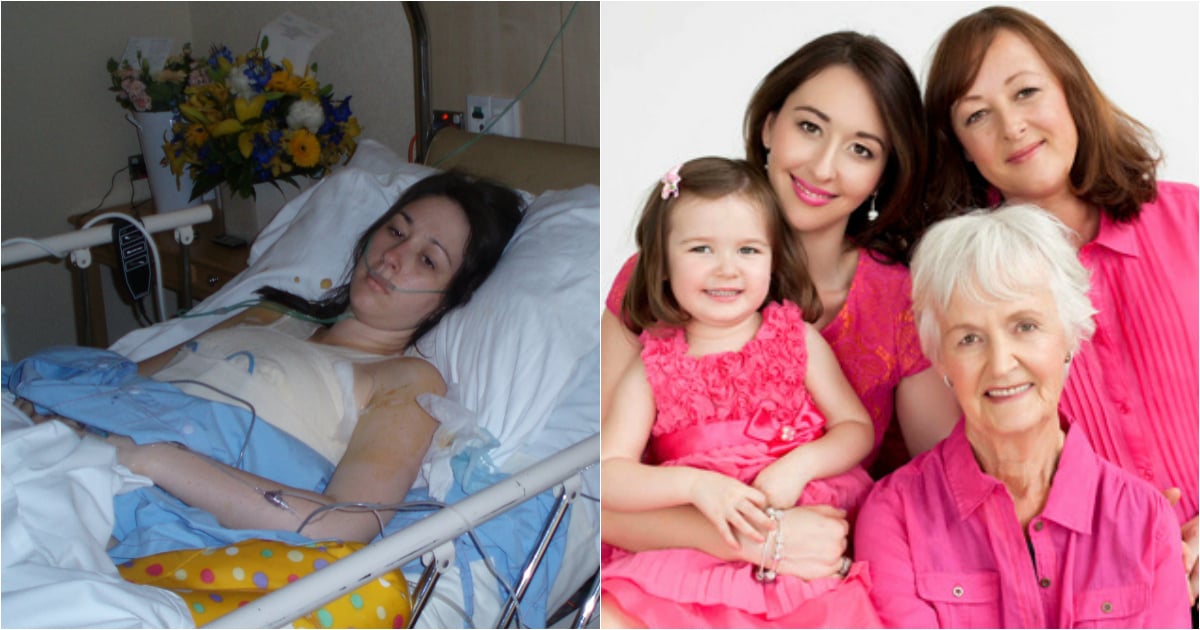 It's a deeply personal mission. It has become apart of my family and an opportunity for me to continue to feel fortunate that Pink Hope now impacts the lives of so many around the country... And the world. Every day for the past five years, Pink Hope has been working to try and ensure every individual can access, manage and reduce their risk of developing breast and ovarian cancer, with personalised support.
A huge part of this has focused on ensuring women and men at risk can get access to genetic testing. Genetic testing if suitable provides the information individuals need to make informed decisions about their health, to manage their own risk and if currently living with cancer, have more personalised treatment. To me, it saved my life.
In the past, Aussies at high risk of breast and ovarian cancer – have struggled in a system that since Angelina has been under strain, with confusing criteria and an approach that just wasn't consistent. So if the families went private they were looking at a cost of anywhere between $800 and $2000 AUD.
As Australia's only advocacy group dedicated to those at-risk of familial breast and ovarian cancer, Pink Hope has been advocating on this very issue since the organisation was created. As a start we really wanted to see it made easier for women facing breast and ovarian cancer to access more personalised treatment and then they could go on to provide life saving information for their family.
The Government is clearly finally listening. As of the 1st of November, Australian women diagnosed with breast and ovarian cancer who meet eligibility criteria can request BRCA testing through a specialist, funded by Medicare. This announcement is a crucial step in mainstreaming genetic testing something I hope will head to mainstreaming of genetic testing, so families don't have to have to live in doubt any longer.
LISTEN: Jane McGrath's best friend, Tracy Bevan shares what it was like to lose her friend to breast cancer (post continues after audio...)
Genetic testing is a small part of the cancer experience. We know the majority of people diagnosed with breast and ovarian cancer do not have the BRCA gene, we know that they may not have a significant family history to go off…. But I know in the future scientists will and are finding more genes mutations, more knowledge and it will need to be applied to the healthcare system in Australia… much quicker than what the BRCA gene testing has been.
While this is a step forward, Pink Hope's work is not done. We are committed to educating Australians about their risk for breast and ovarian cancer, including lifestyle factors and breast density.
We feel an obligation to continue this conversation and more importantly represent the families like mine that want to be in control of their risk. And because of Pink Hope they don't have it do it alone.
To support Pink Hope, connect with their community or find out more information about your risk of breast and ovarian cancer, visit Pink Hope's website.