Warning: spoilers ahead. 
Welcome back to Kiss Bang Love, you're just in time for episode three of Channel Seven's self-confessed controversial love-matching show. We hope you've had a pleasant seven days since our last shared snog fest and that you've got a chap stick handy for this week's tongue-wagging endeavours.
Having met ultimately unlucky-in-love Lisa in the first week, and spoiled-for-choice Geordie last week, the show returns with its newest contestant, 23-year-old Chelsea. Where will it go, no-one knows.
Small business owner and single girl Chelsea says she's looking for someone who is fun, adventurous, will love her, adore her and make her their number one.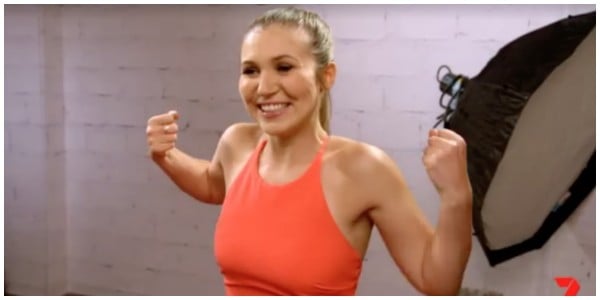 Hi Chelsea! Source: Channel 7.
This week, her 12 potential suitors are a rambunctious bunch of blokes in their early 20s, many of whom almost definitely still live at home and justify their parents doing their cooking and laundry by saying they're just "waiting to get into the property market." And on that note, let's get to it.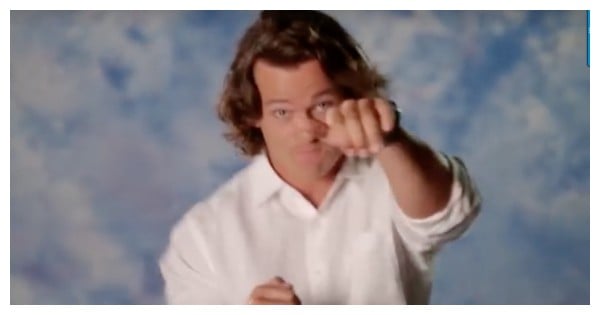 Hi Matt! Source: Channel 7.
First up is 22-year-old car restorer and footy fanatic, Matt. He says he wants a girl with a good personality and is currently moving on from a previous relationship.
Matt has Heath Ledger-style hair and says he has no kissing technique at all.
Kiss outcome: "Awesome. Even though I couldn't see him, he felt really hot," Chelsea said giggling.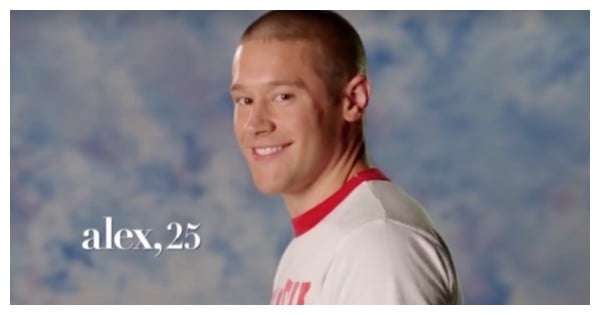 Awkward Alex looking awkward. Source: Channel 7.
In second place is 26-year-old Alex. He says he's short but that it's not a big deal, but Chelsea says that height is definitely deal breaker for her.
Kiss outcome: Terrible. Chelsea has to slightly bend down and Alex's hands are all over her face. "He looks like he's about to crack her neck," Chelsea's sisters say from the viewing room.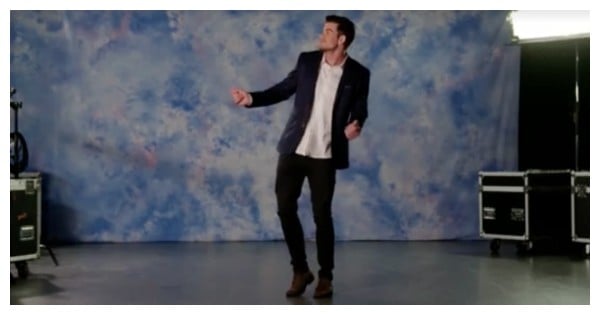 Work it, Nick. Source: Channel 7.
In third spot is 23-year-old presenter Nick, who is looking for a best mate to go through life with. Nick likes blondes with blue eyes and is comfortably taller than Chelsea.
Kiss outcome: If I had to describe it in food form I'd say the kiss was the equivalent of original flavour Doritos. Like, they're corn chips so that's great, but they're no nacho cheese, you know?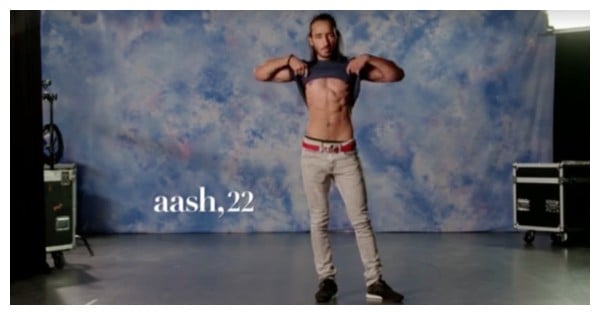 Put your shirt back down, Aash. Source: Channel 7.
22-year-old Aash is currently completing his Masters in accounting. Looks like he's already mastered the ab machine though, doesn't it.
Aash has a ponytail and is all about the kind of sensuality that creeps regular people out and makes you desperately wish a friend would phone when he's trying to tell you about his poetry in a low lit cocktail bar.
Kiss outcome: Positive. Chelsea did not feel his ponytail, and they held hands post-pash.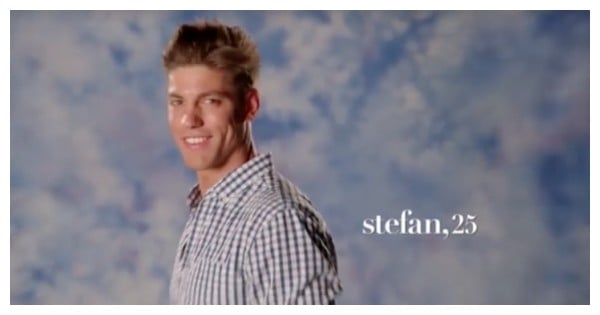 Wild hair for a wild card. Source: Channel 7.
25-year-old Stefan is tonight's wild card. His sisters think this family friend from primary school is a great idea and Stefan says that he's always had a bit of a crush on Chelsea.
Stefan can backflip, which may be completely useless in the world of dating, but is a fun skill to possess nonetheless.
Kiss outcome: There was a lot of noise, but even with that it was still was saucy as fuck.
Good time for a montage of forgettable kissers and those who are doomed to remain in round one forever...
It's like blue steel, but not. Source: Channel 7.
Next cab off the ranks is Danny, who at 25-years-old is a carpenter and "a white Kanye West" because he loves fashion... Sure, Danny.
After a short montage of Danny trying on garish suits he explains to the camera that he's hoping the show ends well because he wants a good story for his wedding speech. Meeting at Coles will not do, Danny explains.
Kiss outcome: Not as bad as Danny's taste in fashion.
24-year-old electrician Andrew is the final egg in this carton and thinks you can tell a lot from a first kiss.
Kiss outcome: an awkward start was met by a smoother finish, and Chelsea was seriously flustered by the end of it, saying that his taking control and scent were both good things.
For the top five Chelsea selected fun-time Nick, well-scented Andrew, wild card Stefan, Ledger head Matt, and passionate hands Andy.
24 hours later Chelsea is on her first of two overnight dates.
For the first date she's invited Matt away for a day of water park fun and an afternoon of deep convos and picnic rug pashing. Chelsea likes Matt's body and says that he has "beautiful eyes which I got lost in".
But just like that Chelsea gets sick and has to be carried to bed and left alone in a dark room. While it wasn't the date they planned for, there are no brownie points quite like the "knight in shining sick armour" points.
Her second overnight date is with Stefan, her long-time family friend.
Mamamia's podcast, The Prude and The Pornstar, is all about sex and relationships. Listen to the latest episode below.  (Post continues after audio.)
Thankfully Chelsea is no longer sick and decides to Daryl Braithwaite this shit and go horse riding on a beach before. From there the two hang poolside, kiss in the pool and Stefan whips out a guitar to serenade Chelsea with.
After much soul searching and topless body comparisons Chelsea ultimately decides to go on holiday to the Whitsundays with aspiring musician and wild card, Stefan.
Stefan is now the second wild card winner to go all the way, which really cements my belief that people need to get drunk with friends more often and see where it goes.
Until next week...