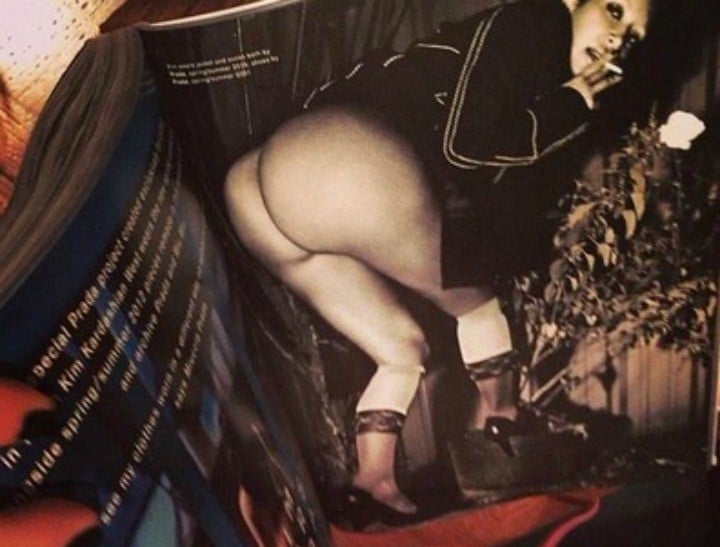 No-one could blame you for being tired of looking at Kim Kardashian's lady parts. But this? This can't be the reason.
Hello and this is Kim Kardashian's vagina. We think you've met before.
Just days ago, we were looking at her bum. Again. And now, we're back to the front.
You wouldn't imagine that anyone is shocked to see Kim's bits all oiled up and arty, leaked from a new copy of LOVE magazine, but apparently, some people really, really are.
And not because there's nothing much to see here. No, it's because She's Someone's Mother.
And when you're Someone's Mother, people on social media will always point it out. And say things like this:
"I'm so sick of seeing Kim Kardashian naked. You're someone's mother. You act like we can't all log on and see you screwing Ray J if need be."

"Getting really bored of seeing Kim Kardashian naked lately… she must be desperate for cash… cover up for your daughters sake yuck! [sic]"
Kim K bares all from behind as well. Image via Twitter.

 
It's exactly the same criticism that she attracted with her infamous champagne-popping 'break the internet' Paper magazine shoot. Comments like these:
"I normally don't comment, but she's someone's mother."

"You are a mother and a wife, respect yourself!"

"People really thought being a mother would stop Kim Kardashian from ho-ing lol"
Charming, right?