Death by hanging. That's the fate that could await two women accused of the murder of the half-brother of Kim Jong-un, the Supreme Leader of North Korea.
The 46-year-old died en route to hospital on the morning of February 13, roughly 20 minutes after he was allegedly poisoned by Indonesian national Siti Aisyah, 25, and Vietnamese Doan Thi Huong, 28, in the terminal at Kuala Lumpur International Airport.
The pair are currently facing court in Malaysia, as the prosecution attempts to persuade a judge that they approached the man from behind and rubbed his face and eyes with VX – a nerve agent so deadly it is classified as a weapon of mass destruction by the United Nations. So deadly that just one drop can be enough to kill.
But according to legal representatives for the women, they are far from calculated killers. They are ordinary people, seeking fame and money, duped by a group of men into believing they were part of a prank show, and oblivious to the fact they were, in fact, carrying out one of the most brazen assassination plots in living memory.
Kim Jong-nam ought to have been the Supreme Leader of North Korea. The eldest son of the late Kim Jong Il and his mistress, Song Hye-rim, he was considered heir apparent until he reportedly embarrased the regime by attempting to enter Japan on a false passport in 2001. Since then, he had been leading a secretive life, based in the gambling mecca of Macau.
As an occasional critic of his former homeland (a 2012 book claimed he predicted the collapse of his half-brother's rule: "The Kim Jong-un regime will not last long," he was quoted as saying), he lived under a false name and was reportedly under the protection of the Chinese government.
Because of this, there are suspicions that that the now-leader played a role in organising the attack on Kim Jong-nam; accusations that the North Korean government has, of course, vehemently denied.
Yet police have also identified four North Korean suspects believed to be involved in the plot – known to the women and referred to in court only as Mr Chang, James, Mr Y and Hanamori, who according to The Straits Times has been identified by police as "the mastermind of this incident". They remain at large, reportedly having fled to their homeland the same day the attack was carried out.
And so for now, it is two Southeast Asian women facing the gallows.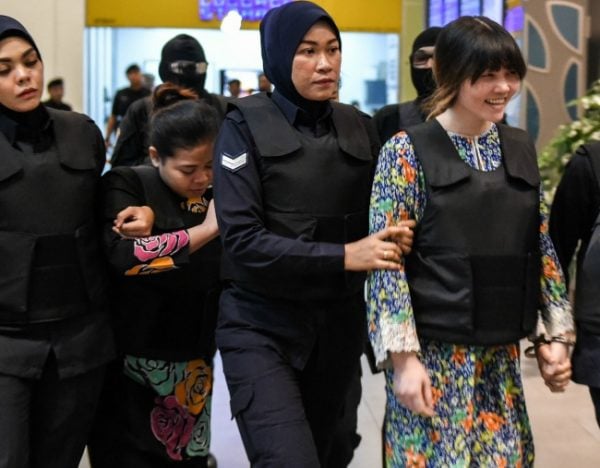 To date, there is nothing remarkable or especially controversial to have emerged about the lives Siti Aisyah and Doan Thi Huong lead before February this year.
According to Aisyah's father, Asria Nur Hasan, his daughter - who has a child - is loyal, generous and pious. When he first received the call back in March from a Malaysian prison where she was being held, he was overcome with surprise.
"We didn't see this coming at all. I don't think she would have been in all this at all, if it wasn't because of other people using her, getting her wrapped up in all this," the Indonesian man told CNN.
The precise role of those people is expected to emerge over the coming weeks.
But according to The Guardian, Aisyah's lawyer, Gooi Soon Seng, claims she was paid $100 to $200 by the suspect named 'James' to rub oil or pepper sauce on strangers at malls, hotels and airports, which he would film on his phone. She was then introduced to Chang, who claimed to be producer of a Chinese prank show. It was he who allegedly pointed out Kim Jong-nam as her next target.
Gooi claims she believed the 'prank' was the same as all the others, that she was unaware that this time she and Doan Thi Huong had been handed Agent VX instead.
Mia Freedman and Amelia Lester deep dive on whether or not we should really be terrified of North Korea:

Asria Nur Hasan is confident his daughter will be found innocent, as are lawyers for both women who have been hired by their respective federal governments.
The last time Aisyah spoke to her father she asked him to pray for her.
"Pray for me so all this will finish soon," he told CNN. "So that everything will be made easy. So that I can go home to Indonesia soon. That Allah will help me, will protect me, will remove me from Malaysia."
Both women pleaded not guilty when the trial began on October 2.
The prosecution is calling witnesses over trial dates stretching into next month, with a lawyer for Doan Thi Huong telling media the defence is likely to begin next year.
In the meantime, INTERPOL has been alerted to the search for the four North Korean suspects. It is not expected that Pyongyang will cooperate.