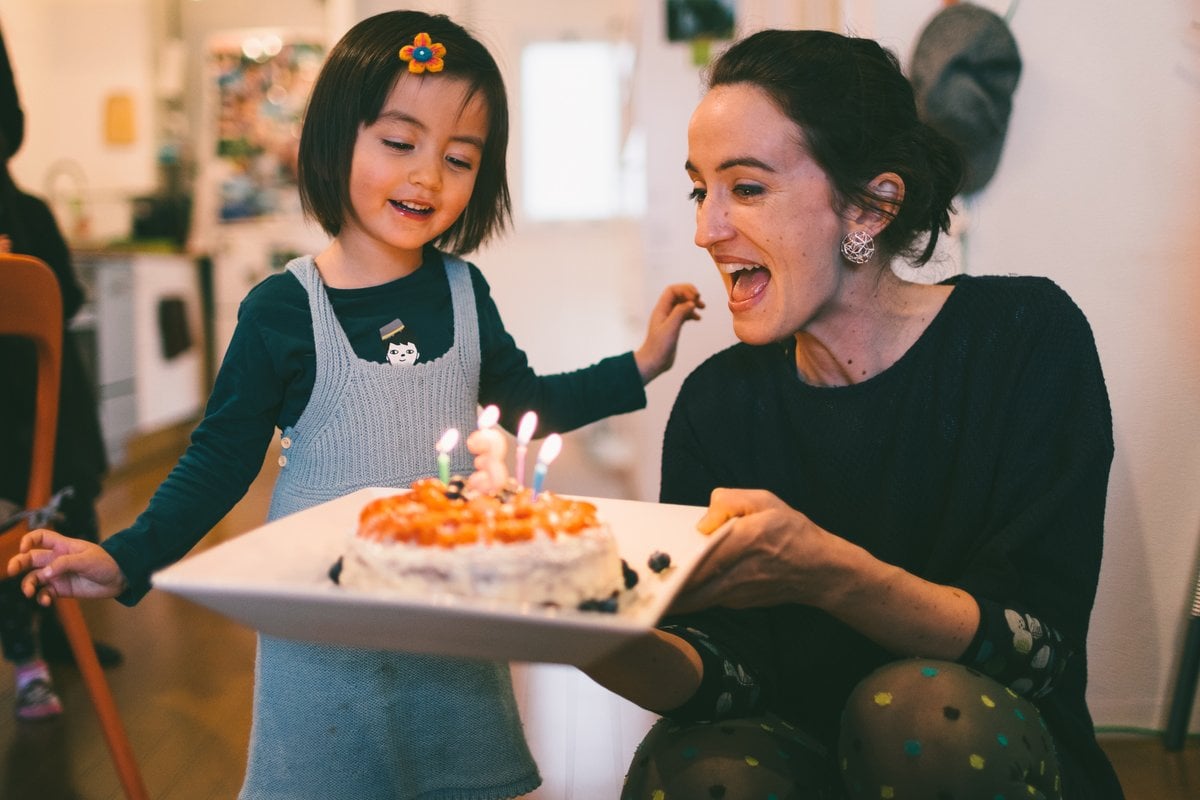 Recently, I chatted with another mum who was super stressed about her daughter's first birthday party. She couldn't figure out the theme, kept changing her mind about the invitations, and complained about the cost of party favours. She continued for a full five minutes about this elaborate party.
I don't like to give unsolicited advice to parents because I hate it when others do it to me. I knew she probably just wanted me to listen but I couldn't relate to why she was stressing herself out over something her daughter won't even remember.
So I looked at her and said, "How about not doing any of that?"
She gasped and chuckled, assuming I was being snarky by making an absurd joke. Then she shook her head and kept stressing. I resumed listening and nodding.
While you're here, watch the things people never say at kids' parties. Story continues after video.
For both my kids, I did nothing crazy for their birthday parties. Until they start school, they need little to have a good time. When they were babies, they slept throughout the party and got passed around from one family member to another. As toddlers, they wandered around touching things.
To plan their special occasions, I had a very short list of things I needed to accomplish. These include setting a time and place, telling people, and getting a cake and some kid-friendly food. That was it! 
Here are four things I didn't do that simplified birthday party planning and kept me sane all these years.
1. No theme.
Dinosaurs or space? Safari or under the sea? Princesses or superheroes? Paw Patrol or Peppa Pig?
The benefit of not having a theme is that there is no need to decorate according to the chosen theme. Maybe I have some leftover orange and black balloons from Halloween and some red and green party streamers from Christmas? This is the time to use them up. It doesn't matter if those decorations don't meet a theme because there isn't a theme in the first place.
In addition, themes are associated with gender. If I pick a theme, I'm assuming that particular theme is what my one-year-old likes. How do I know my son will like superheroes and my daughter will like princesses? Even if I defy stereotypes and go for a gender-neutral theme, I'm still assuming that my kids like it. Then they grow up and look at their photos, cringing at my horrible decision. I'd rather play it safe and not have a theme at all.
2. No invitations.
First, it's about saving the earth and reducing the amount of paper waste. I don't know how many wedding invitations I've kept from my friends. Don't tell them but I actually threw them out the minute I saved the date on my phone.