A fashion designer has accused Khloe Kardashian of ripping off her designs for the reality star's label Good American – and the evidence she's provided to lawyers is pretty damning.
Last week, Destiney Bleu – who has designed for stars like Beyoncé, Serena Williams, and Lady Gaga – made the accusations on Twitter, posting a campaign video by Kardashian's brand.
The video featured glitter bodysuits that look remarkably similar to some of Bleu's designs for her label dbleudazzled.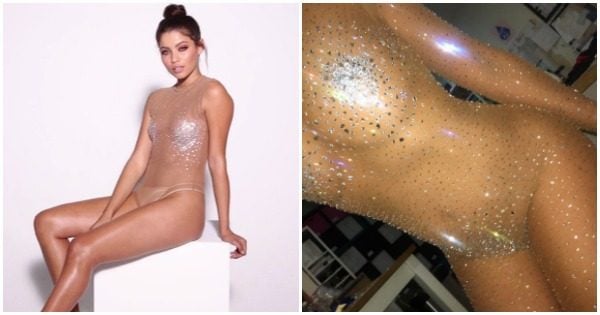 However, the youngest Kardashian sister replied to the allegations on Good American's Instagram, posting three images of Cher, Diana Ross, and Britney Spears in bedazzled bodysuits - stating these were the inspiration, not Bleu's designs.
"Important to know your fashion history #nofrauds," she wrote next to the image of Cher.
Followers weren't convinced, however, with many sharing their scepticism. One wrote, "I see you are setting up your defence argument."
The denim company then released a statement saying "under no circumstances did Good American or Khloé Kardashian infringe on another brand's intellectual property and we are going through the proper legal channels to handle the situation."