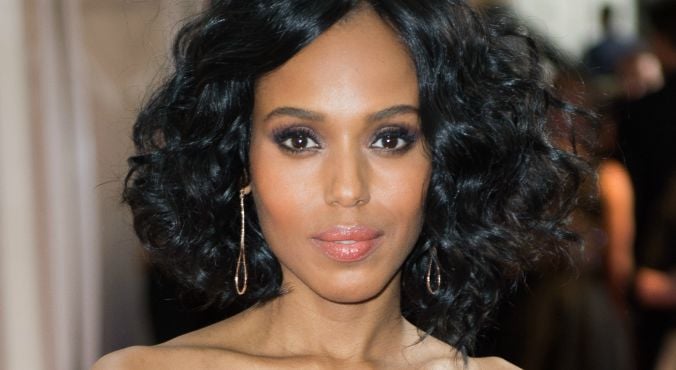 Image: Getty.
As if the process of growing, carrying and delivering a baby isn't a feat in itself, there seems to be an expectation for mothers to "bounce back" to the way their body looked before going through one of the most transformative physical processes known to humankind.
Sometimes, this pressure is unspoken. Other times, it comes through loud and clear, primarily in magazine covers and interviews detailing how a celebrity mum has "got her body back" and successfully erased all indications of having borne a child.
RELATED: "7 key things nobody told me about post-baby boobs."
So when a famous women looks that expectation in the eye and says "nope", it's both refreshing and reassuring. In a new interview with Self magazine, Kerry Washington has done exactly that.
The Scandal star gave birth to her daughter Isabelle last year, and says she has no desire to 'snap back' to her pre-baby physique.
"I've been really focused on not being 'back' to anything, but being the best version of myself right now. My body is the site of a miracle now. I don't want to be pre-miracle," she says.
Washington, who has earned multiple nominations for her portrayal of Olivia Pope in Scandal, also takes issue with the way in which this topic is discussed.
When the 38-year-old's manager asked her, "Do you feel like you're back? I feel like you're back", she took the opportunity to highlight how loaded the word is in the context of a woman's body.
RELATED: Zooey Deschanel is one celeb who won't be worrying about her "post baby body".
"She meant it as a total compliment, but we had this great conversation where I was like, 'You know what? I try really hard not to use that language, because it's not about going backward in life.'" (Post continues after gallery.)
RELATED: This mum is learning to love her post-baby body in a truly unexpected way.
This is absolutely spot on. Pregnancy changes a woman's body in countless ways, so it's unrealistic to expect giving birth, followed by a strict diet and exercise plan, will rewind everything by nine months.
Trying to do so can also be unhealthy, as supermodel and mum of two Elle Macpherson told The Glow earlier this year: "The last thing you need to do is be food restricting or exercising too much... I think the more slow process is better for the body and has more long term effects. Your body needs time to recover."