1. Kendall Jenner attended the Golden Globes and her appearance sparked a whole lot of questions.
"B-but… she's not an actress, producer, director, nor an activist," was what many wondered, eyebrows furrowed, as Kendall Jenner graced the Golden Globes red carpet today.
The 22-year-old model and social media influencer has achieved a lot in her short professional career. But even so, her presence at the event was widely questioned.
People had mixed emotions. Anger, confusion, jealously that her elongated figure could pull off such an elaborately poufy dress. They felt all of the emotions… but mostly anger.
okay y'all i swear i'm gonna stop after this but how did kendall jenner have the audacity to turn up to the golden globes like i can't think of a person who would look more out of place there than she does? the only "acting" she's done was in that awful pepsi advert

— / (@katherinebecktt) January 8, 2018
On such a politically charged #goldenglobes I'm surprised @KendallJenner didn't hand out cans of @pepsi https://t.co/nsdA9gsTSF

— Des Kennedy (@ThatDesKennedy) January 8, 2018
fixed it. pic.twitter.com/od9qdli4cr

— emily! collins! (@emmmycollins) January 8, 2018
2. Meghan Markle's brother is blaming her for landing his fiancée in jail.
It seems Meghan Markle can't quite catch a break with her family members blaming her for literally every inconvenience life throws at them. They're acting like a bunch of… princesses.
Meghan's half-brother Thomas Markle Jr. has recently spoken out about the New Year's altercation he had with his fiancée Darlene Blount. It led to Blount being charged with fourth-degree assault and subsequently landing in jail.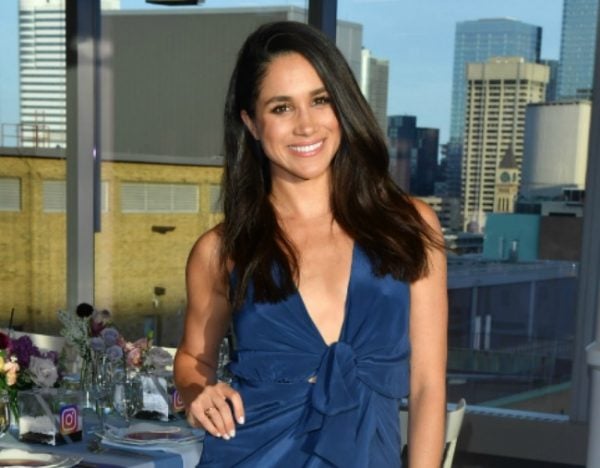 Thomas detailed the couple's plans for alcohol and relationship therapy, but ultimately blamed the relationship strain on Meghan's recent royal engagement to Prince Harry. The connection is… weak.
"It hasn't been easy. Meghan's relationship with Prince Harry has shone a spotlight on our family. It doesn't help when you have issues and your sister is engaged to royalty. It adds a whole new level of scrutiny," Thomas told The Mail.
"We've been under a lot of stress because of all the attention. At some point, you find yourself drinking too much to escape the pressure."
3. Fans think there is something fishy going on with Paris Hilton's engagement ring.
In true Paris Hilton fashion, she has royally confused us once again. Since her recent engagement to fiancé Chris Zylka, Paris has been sporting a large, very expensive engagement ring rumoured to be worth $US2 million.
"How it was paid for, I won't disclose," Beverly Hills jeweller Michael Greene of Green & Co. told news.com.au.
"Those are the kind of things I wouldn't talk about."
The refusal to talk details from the two's jeweller encouraged immense scepticism from the public as to how exactly Paris' mystery man managed to pay for such Paris-like extravagance.
Chris, an actor on the HBO television show The Leftovers, is reported to have a total net worth of $US4 million. I'm no mathematician, but that means Paris' engagement ring cost Chris half of the ENTIRE income he's made in his his whole damn life. My oh my, the things love makes you do…
The alternative theory is that Paris paid for the ring herself, as her net worth is comparatively colossal, at a cool $US300 million.
'Tis indeed, Paris. via GIPHY
4. Lana Del Rey may be sued for 'ripping off' Radiohead.
Lana Del Rey has confirmed rumours that she is facing a potential lawsuit from British band Radiohead over alleged similarities between her recent track Get Free and Radiohead's iconic 1992 single Creep.
Taking to Twitter, Del Rey said that her song Get Free "was not inspired by Creep" but she had offered "40 per cent" of the song's publishing to the band.
According to Del Rey, this offer was rejected by Radiohead who "will only accept 100 per cent".
It's true about the lawsuit. Although I know my song wasn't inspired by Creep, Radiohead feel it was and want 100% of the publishing - I offered up to 40 over the last few months but they will only accept 100. Their lawyers have been relentless, so we will deal with it in court.

— Lana Del Rey (@LanaDelRey) January 7, 2018
The allegations are set to be dealt with in court, and we're all but hoping it doesn't disrupt Lana Del Rey's Australian tour in March.
5. Selena Gomez goes on huge Insta purge, unfollows 279 celebs and friends.
Is there anything more refreshing than going on a big social media purge? Probably not.
Unfortunately for Selena Gomez, being the most popular person on Instagram means your sneaky unfollows are probably going to get noticed.
Selena went on a huuuge purge, casually unfollowing 279 celebs including Demi Lovato, Gigi Hadid and even her assistant Theresa Mingus.
Now she's left following just 37 accounts, including Taylor Swift, Amy Schumer, and her bestie Francia Raisa (who donated a kidney to Selena last year).
Selena also confused her followers by changing her profile pic to an old shot of her mum, Mandy Teefy. The pair are rumoured to be arguing over Selena's relationship with Justin Bieber.
Enjoy your fresh new feed, Selena.