It's been almost six months since Kendall Jenner appeared in the ill-fated Pepsi commercial that sparked astonishing backlash when it appeared to trivialise the Black Lives Matter movement.
And yes, we're still talking about it.
For the first time, the world has been able to see how the controversy affected the 21-year-old first hand, on the season 14 premiere of Keeping Up With The Kardashians.
The ad in question features black, white, transgender, gay and Muslim people marching in an ambiguous protest, holding signs printed with messages like "join the conversation" and "love".
Jenner, who is wearing a blonde wig and is working on a photo shoot in the ad, then decides to cast off her 'costume' and join in on the protest.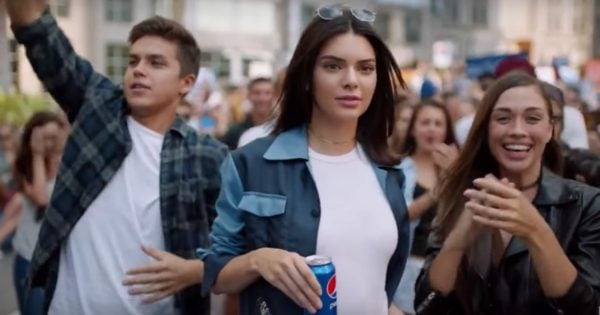 The ad ends with Jenner handing a police officer a can of Pepsi.
The police officer smiles. The protesters cheer. Everything is right again in the world, thanks to Pepsi...
... Except that premise is so stupid it's laughable, and the company swiftly pulled the ad from screens and issued an apology.
At the time, Kendall stayed silent on the controversy, deleting all references from her social media to the ad.
Here's what happened behind the scenes.